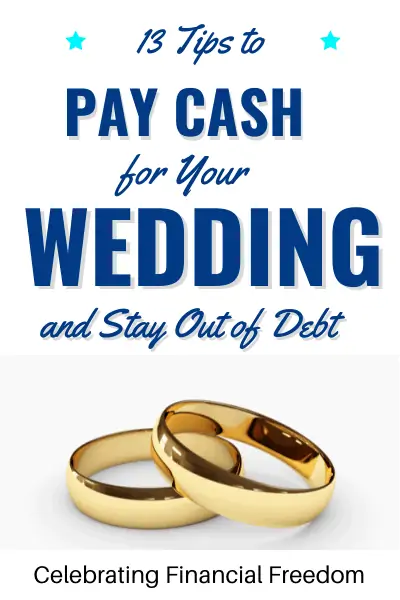 Getting married is an incredibly special time in your life. It's one special day that completely changes the course of your life! But is it wise to go into debt to make your wedding day as special as possible? Can you really pay cash for your wedding?
In this article I'll show you why using debt is not the best way to fund your big day, and I'll give you 13 tips to help you pay cash for your wedding.
How Do Most People Pay for a Wedding?
According to Wedding Wire, in 2020 the average wedding cost $38,900 including rings and honeymoon. A recent LendEDU survey about wedding debt shows 33% of those surveyed went into debt to fund wedding expenses. And on average, the total wedding debt was almost $12,000. That's a lot!
As you can see, a large number of people start married life with a significant amount of wedding debt (not to mention other debt they may have). But with the right mindset and some diligence, it's not hard to plan a wedding that's completely debt free!
Why Pay Cash for a Wedding?
Debt is one of the most common causes of marriage problems. It's always at the top of the list of reasons for divorce in the US.
Too many couples start out married life dealing with a huge pile of debt representing one special day that can quickly turn into regret once the bills start rolling in. It's hard enough adjusting to married life with a new spouse. You don't need financial stress causing tension in your new marriage too!
Of course, here at CFF we teach that you should avoid debt completely, including wedding debt. When you commit to not using debt to pay for your wedding, you're also committing to making your marriage stronger and more successful.
It's a mindset and set of habits that touches every area of your life in a positive way once you commit to them.
13 Tips to Pay Cash for Your Wedding
Set a Realistic Budget and Stick to It
Making a written budget (or a spreadsheet for you nerds) is an absolute must if you want to keep control over your wedding expenses. It's extremely important that you sit down with your fiancee' and communicate about your wedding budget on a frequent basis.
Use this simple math
First, decide how much you want to spend on your wedding. Once you know your budget goal, divide it into bite sized pieces. Take the total of your overall budget, then divide it by the number of months you need to save up before the wedding.
For instance, if your budget is $15,000 and you want to get married 18 months from now, divide $15,000 by 18 months which comes to $833 per month. If you don't think you can swing that much monthly, there are a few things you can do:
Add more time to save up the money
Trim your wedding budget to a smaller amount
Cut as much as you can out of your living expenses (i.e eating out, entertainment, etc.) so you can save more
Get a side hustle (more about that below)
Work extra hours at your job
Sell stuff you don't need
Ask Family and Friends to Contribute
Family and friends may be willing to contribute money, time, or goods such as flowers, decorations, or a cake for your wedding. However, you should be careful about how you go about asking, and what the expectations are.
Many times, people want to contribute toward something specific. For instance, if your parents are willing to pay to rent a church, but your dream is to have a rustic outdoor wedding, that could be a problem.
Make sure what each person's expectations are for their contribution. The more you communicate about what's expected, the less chance there will be hurt feelings on either side. Don't let the expectations of others hijack your budget or your happiness. If it means hurt feelings for some, that's ok, you can't make everyone happy.
Remember, it's always ok to turn down a contribution to your wedding if it doesn't fit with your vision. It's your wedding, not theirs.
Crowdfunding Cash for Your Wedding
Crowdfunding is another interesting way for others to help pay cash for your wedding expenses. Once you set up your page at your chosen crowdfunding site, you can email friends and family to ask for contributions toward your wedding and honeymoon.
Keep in mind that people are more likely to donate to fund a frugal wedding. Asking for donations toward a high-end luxury affair is a real turn-off for most people. Crowdfunding works much better if you ask for donations in lieu of wedding gifts, for a cheaper wedding they know you can't afford on your own.
There are several popular sites you can use, such as:
Use Your Tax Refund
If you expect to get a refund when you file yearly taxes, factor that into your budget. This can really add up, especially if you and your fiancée both contribute your tax refunds toward the wedding.
Get a Temporary Side Hustle
One of the most popular ways to avoid wedding debt is to get a side hustle. Making extra money exclusively to fund wedding expenses can create a huge boost to your wedding saving plans.
Just $300 extra dollars a month for 12 months adds up to $3,600 you can use toward your big day! Here are some good ideas to get you started:
Drive for Uber or Lyft
Deliver for Amazon
Work extra hours at your regular job
If you're crafty, start an Etsy store
Babysitting/petsitting/dog walking
Proofreading– take this top-rated course to get started
Manage social media for a local business or two
There are literally hundreds of ways to make extra money if you get creative. Here's a link to my Money Making Ideas page you can check out for more ideas.
Cut Down on Debt Payments
If you're actively paying off debt, this is one of the rare times it's ok to not pay extra toward getting out of debt. Just continue normal minimum debt payments while saving for the wedding.
Use any extra money you have to pay wedding expenses instead of paying off debt. Then, once you get married, attack your debt hard and pay it off as quickly as possible.
Cut Back on Investing for Now
If you are contributing money every month into investment accounts (IRA, Roth IRA, 401k, etc.), then cut back on investing for now while you're saving for your wedding.
Remember, the goal is to stay out of debt. Temporarily halting investment contributions for a few months helps you more easily cash flow your wedding without being tempted to go into debt.
Yes, it might feel a little painful to stop putting money into retirement for a time. But keep in mind that this is also an investment in your future. When you can start your marriage without a pile of wedding debt, that's one less thing causing stress for you and your spouse as you begin married life together.
Cut Down on Unnecessary Expenses
Cutting unnecessary expenses can help you save significant money for your wedding and honeymoon. You'll need to change some habits, and it will take some diligence to make it happen.
Cost cutting doesn't mean you can't still have fun though. But if you're spending hundreds every month on restaurants, drinks with friends, and daily coffee runs, it's a good idea to scale those back and be more judicious about how you spend money.
This is where a great budget comes in. If you're not doing a monthly budget that spends your money on paper before you spend it in the real world, you should be. It's absolutely the best way to spend your money when, where, and how you want without spending more than you make.
Here's a link to my Budgeting page. You'll find free budgeting forms, articles, and everything you need to get total control over your money.
Cut Costs on Less Important Items
It's extremely easy to let wedding expenses get out of hand if you're not careful. Make a prioritized list starting with your must haves, moving down to less important items you would be willing spend less on or do without.
Is that fancy (expensive) venue you always wanted nonnegotiable? Then you may need to use simpler decorations and do a buffet instead of a sit-down 3 course meal.
Just make sure you can afford to pay for those nonnegotiables without going into debt. If you can't swing it, it's time to modify your plan.
Ask for a Cash Discount
Most of the vendors you hire will be small business owners. Many of them appreciate cash, and will gladly give a discount if you ask.
It's better for them since they won't have credit card fees eating into their profit. And some small business owners keep cash transactions off the books to avoid paying taxes too. It's a win-win for both of you!
If they won't give a cash discount, well, at least you asked. Of course, you can always go with another vendor who will.
Find Sponsors
Some vendors may be willing to give you a discount on their services in exchange for advertising. Allowing vendors to put up signage or displays at your wedding is a great win-win. You get a nice discount, and they get more attention for their business!
Just make sure you communicate expectations thoroughly. The last thing you want is to be surprised on the day of your wedding with an over-the-top display or huge sign you didn't expect. Of course, get it in writing so both sides know what to expect.
Don't Spend too Much on the Engagement Ring
When preparing to get married, the first expense is usually the engagement ring. You and your future spouse should communicate about this purchase as you begin talking about tying the knot.
It's important that both of you are on the same page. You should both agree that paying cash is best, so you don't start out your marriage in debt.
Should You Spend 3 Months Salary?
The jewelry industry recommends spending 3 months salary on an engagement ring. Whether you make a little or a lot, that's a pretty crazy number! Do you really want to take spending advice from the industry that's trying to sell you the most expensive ring they can?
The best thing you can do is for both to agree on an amount that is reasonable and that you can afford. That will be a different number for everyone. Just remember to pay cash. If you need to use credit to afford an engagement ring, it's a good sign you can't afford to get married!
Be Realistic About What You Can Afford
It's so easy to get caught up in planning your dream wedding that you end up spending waaaaay too much money. This is how so many newlyweds start out married life deep in debt!
Sit down with your fiancee', parents, and whoever else may be funding the wedding to get a realistic idea of what you can afford. Then make a budget, and don't exceed it! You will thank yourself later when you don't come back from the honeymoon to a bunch of credit card bills.
Don't Use Credit Cards, No Matter How Much You're Tempted
As I said above, it's easy to get so caught up in planning your dream wedding that you end up in debt for years. Just because you have a vision of exactly what you want doesn't mean you have the money to make it happen.
Smart people understand that sometimes you have to compromise on your vision. It doesn't mean your wedding will be any less special. When it comes down to it, it's about you and your spouse tying the knot, and nothing else.
Scale your plans back as needed to fit your budget. Don't be tempted to use credit cards or loans to fund your big day. You don't need a spectacular wedding if it means you have to go into debt to make it happen.
The Bottom Line on Paying Cash for Your Wedding
In the end, keep in mind that your wedding day doesn't have to be expensive to be special. Ultimately, it's about creating special memories with family, friends, and your new spouse.
Paying cash for your wedding is by far the best way to ensure that you start your new life with less stress, more happiness, and no debt. When you're not a slave to the wedding lender, you are free to enjoy wonderful memories with no pit in your stomach because you're still paying it off.