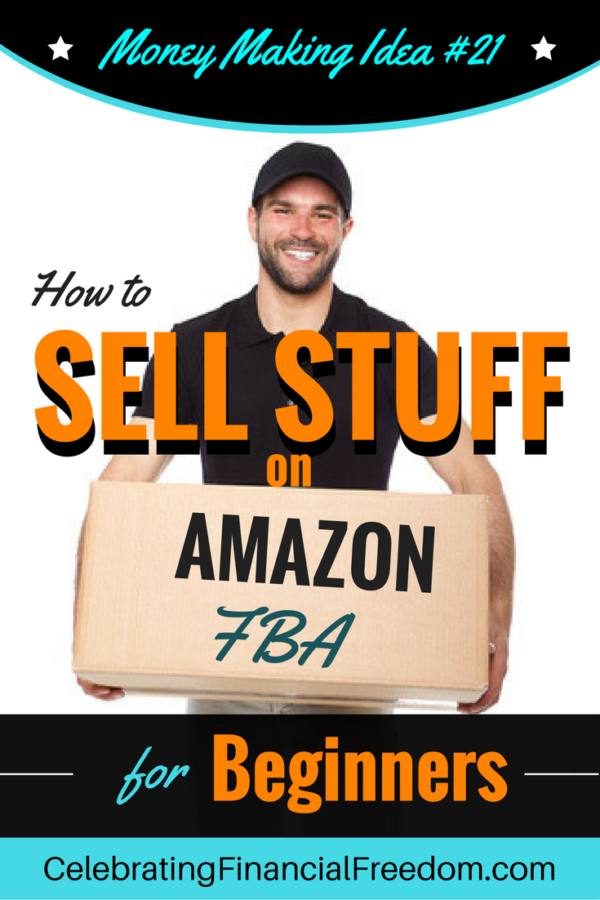 Selling stuff on Amazon FBA is an amazing way to make extra money on the side. You can even earn a full time living as an Amazon seller if you want! Learning how to sell on Amazon using the Fulfilled By Amazon program is a very profitable way to start a business of your own without all the hassles associated with a brick and mortar business.
Best of all, you can be up and running in no time!
Check out all my Money Making Ideas articles here
In this article I'll show you all the details you need to start making money as an Amazon seller. You'll learn:
Why Amazon is an excellent platform for making money
What the Fulfilled by Amazon program is
Why it's to your advantage to use Amazon FBA to sell stuff on Amazon.com
The benefits of Amazon fulfillment over other Amazon selling options
4 ways to sell products on Amazon
How to know if your items will make a profit
Things you'll need to get started
How much money you can make selling with Amazon Fulfillment Services
The top rated online course that has created thousands of successful Amazon sellers.
What is Selling on Amazon?
Selling stuff on Amazon is a lot like starting your own online store. In fact, in a lot of ways it's even better! It's better because:
You don't have to build and maintain your own website.
You don't have to physically handle and ship products if you don't want to.
Amazon has millions of customers searching for products to buy every day!
Basically, you set up your own online store on the Amazon platform and sell whatever you like.
Of course, you have to follow their rules since you're using their platform. But that's ok, the benefits far outweigh any hassles. They want you to succeed, because when you do well, so does Amazon!
Different Ways to Sell on Amazon
There are a couple of different ways you can sell products on Amazon. The main difference between the two is who actually fulfills the order for the customer.
Fulfilled by Amazon (FBA)
Fulfilled by Amazon is the most convenient (and most popular!) way to go. Amazon fulfillment services provide the manpower and storage for your inventory so you don't have to.
You store your inventory at Amazon's warehouses and when a customer places an order, Amazon ships the item for you. Using Amazon FBA has huge advantages:
You don't have to store any physical inventory yourself.
You don't have to do any shipping to the customer- Amazon does it for you!
Your orders are fulfilled quicker, resulting in a happier customer!
Amazon handles returns, complaints, and other problems that may arise.
Of course you'll pay extra for this, but generally it's worth it.
Merchant Fulfilled
Merchant fulfilled means that you fill the orders yourself. That means you have to store your own inventory, handle the orders, and make sure the items get shipped on time. Of course, that's more time consuming and not as scalable as using Amazon's fulfillment services.
Why would you want to take the time to fill and ship orders (or hire staff to do it for you) when you can use that time more wisely to expand your business?
Related Content: How to Start a Work from Home Business with Amazon- 5 Profitable Ways to Do It
How Does Selling Stuff With Amazon FBA Work?
So how does the Fulfilled by Amazon program work? Well, in its simplest form, there are a couple of ways you can do it:
Box and send your products in bulk to Amazon FBA. They will store your inventory, fulfill your orders, and ship them to the customer. Amazon provides shipping labels and everything you need.
Have your wholesaler ship the products you want to sell directly to Amazon. Then Amazon will fulfill and ship orders for you.
Below I'll show you in more detail how to get started and cover some of the intricacies of setting things up. But before I do that, let's talk about how and where to source your products.
4 Ways to Sell Products on Amazon
Retail Arbitrage- Buy Discounted Items From Retailers and Resell Them
Some Amazon shop owners buy closeouts and other heavily discounted items from retailers and resell them at regular price. Of course, you'll need to spend a lot of time and effort to find and purchase these products.
You'll typically need to get them at a 75% discount (or more) to make a profit reselling them. I've heard this technique called retail arbitrage.
Buy Products from Manufacturers and Distributors to Resell
One of the more popular ways to sell on Amazon is to buy products directly from manufacturers and resell them. Here's how it works:
Set up a relationship with a manufacturer or their distributor. It's easy to do on sites such as com, or you can do a Google search to find a distributor you like.
Pick the products you want.
Buy the products.
Have the products sent to Amazon.
List your products for sale on Amazon.
The customer buys your product.
Amazon processes the order, then picks, packs, and ships it to the customer.
You make money!
Sell Used Stuff
Believe it or not, you can also sell used items on Amazon. Whether it's used clothing, electronics, or antiques, used items usually sell very well! You can find several sources for used merchandise:
It doesn't really matter where you get your inventory, you can use the Fulfilled by Amazon service or Merchant Fulfill to move these items rather quickly.
Sell Handmade Arts and Crafts
If you're an artist or crafter you can sell your wares on Handmade at Amazon. Think of it as an alternative to Etsy with a much bigger customer base. Your products will need to meet certain specs in order to sell on their platform, but it's a good place to get your products into the marketplace.
You can find out more about Handmade at Amazon here.
Create an Amazon Seller Account
Of course, to get stared you have to set up an Amazon Seller account. You'll need to provide your standard information along with your bank info for automatic deposits. Once you sign up, you can start selling fairly quickly
You can sign up to be an Amazon Seller Here
Start Selling on Amazon FBA
Once you get signed up here's what the process of selling looks like:
Find a product (or products) you want to sell on Amazon
List the product on Amazon.com- your product will not go "live" at this point
Get your items ready to be sent to Amazon's warehouses
Ship your merchandise to Amazon's warehouses using shipping labels you generate in your Amazon Seller account.
Your items arrive at Amazon. They unpack and store your inventory for you until it sells.
Then your product goes live on Amazon.com
Your product will be featured as being available for Prime shipping
The customer places an order for your merchandise
Amazon employees pick and ship your items to the customer
Your customer receives the product. If they are a Prime member they'll receive it in two days!
If there are any issues (returns, wrong items, etc.), Amazon handles those for you.
You make money!
How to Calculate If Your Item Will Make a Profit
It's pretty easy to find out if what you're selling will be profitable before you start selling it. There's a great app called Scoutify that can help you with that.
All you have to do is scan the barcode for each item you want to sell with your smartphone, then input your cost for that item.
Scoutify will display the product page for that item so you can see what price it's selling for on Amazon. You'll also see how many other sellers are selling that item, and calculate how much profit you'll be able to make.
If the profits are small or nonexistent, you'll do better finding something else to sell.
Things You'll Need to Get Started
You don't need much to get started. Most of these are things you probably already have. Here's a short list:
smartphone
computer
printer
shipping tape
boxes
labels
a scale
As you advance and start building a bigger business you may need other tools to help your business run more efficiently.
How Much Money Can You Make Selling With Amazon Fulfillment Services?
You can make a modest side income with Amazon FBA. But if you want to put in more time and effort, the sky's the limit! This is an especially good way to make money as a single mom or stay at home parent.
There are thousands upon thousands of people who make their living selling on Amazon. You can even scale up to a seven figure business with the right amount of effort and a good mix of products!
I did a Google search for Amazon FBA success stories- you can check them out here
The Proven Amazon Course
If you're still a little unsure about how to get started with Amazon FBA, have no fear! There is an incredibly thorough, highly respected online course and community that can help.
It's called the Proven Amazon Course– PAC for short. PAC has created thousands of successful Amazon sellers during the decade plus it's been available. It's the best, most supportive, community based way to create an Amazon business. PAC is extremely affordable, and easily the most comprehensive available.
Check out the Proven Amazon Course here.
Amazon FBA- a Great Way to Make Money!
I've said it before and I'll say it again- this is the best time in the history of the world to start your own business! It has never been easier or cheaper to sell to literally billions of people across the world!
So if you're looking for a good way to make some extra money or even a full time living, selling on Amazon FBA is a great way to do it!
Question: Have you ever tried selling on Amazon? What was your experience? Leave a comment on our Facebook Page or below and tell us about it!