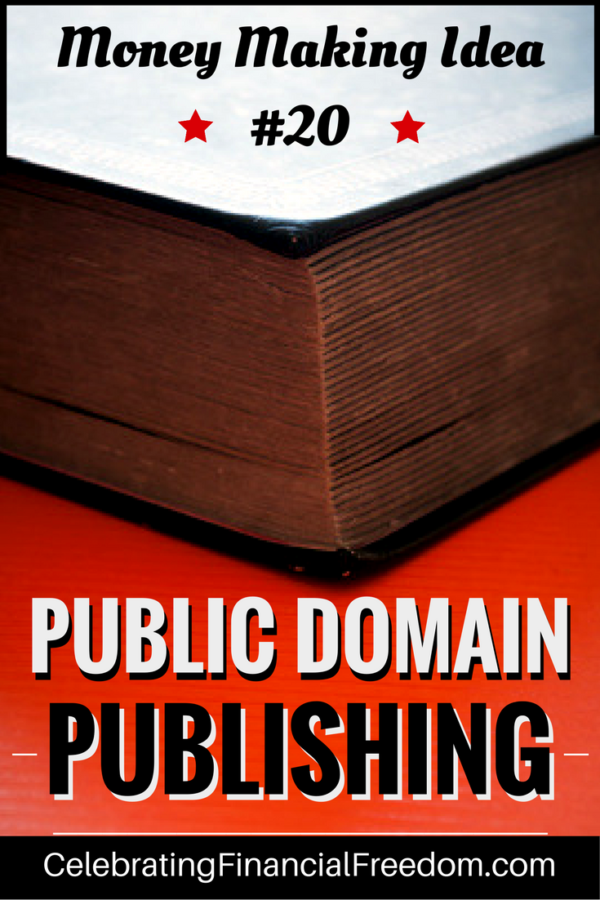 My latest money making idea is all about public domain publishing . If you're not sure what publishing in the public domain is and how you can make money with it, then stick around.
I'll show you how publishing public domain books can be a relatively easy (and fun!) way to make extra money for your bottom line.
Heck, you could even turn this side gig into a full time business if you like!
Best of all, It's a great opportunity to develop a passive income stream so you can actually make money while you sleep!
What is Public Domain Publishing?
Public domain books (or other works) are simply works which are not currently copyrighted. A work may lack a copyright for several reasons:
The author never obtained a copyright. This is important if the work was published before 1989.
The author dedicated their work to the public domain when it was originally published.
It was never eligible for copyright in the first place.
The copyright expired.
If a work is not copyrighted, then it's considered to be in the Public Domain. This means that no one owns the rights to the work, and anyone can republish part or all of the work without running into problems related to copyright law.
Publish Books Written by Someone Else
So what this means for you is that you can take any public domain work and republish it for profit! It's perfectly legal to republish someone else's work in this way, and many people are making good money doing it! Here are a few resources you can use to get started after you read this post:
The Public Domain Publishing Bible: How to Create Royalty Income for Life
Upcycling Public Domain: 27 ways to enhance, differentiate and repurpose public domain books for Kindle publishing
How to Build a Home Based Business Using Books Already Written and Available On the Public Domain: Profit from Thousands of EBooks Already Written For You by Well-Known Authors from Around the World
Can You Legally Sell Public Domain Content?
Selling works without a copyright is perfectly legal. Although copyright laws can be somewhat confusing, there are some basic guidelines you can refer to:
In the US, any book published before 1923 is considered to be in the public domain.
Books published in 1923 or later are in the public domain if the copyright was not renewed.
A public domain book can be used freely, reformatted, reprinted, and sold anywhere you like.
How to Find Public Domain Books
However, figuring out whether or not a book has a current copyright or not can be a little tricky. Probably the best place to locate books without a copyright is Project Gutenberg. You can also use this comprehensive list of public domain book sources to find what you're looking for.
How to Publish a Public Domain Book
By far, the best place to publish a public domain work is on Amazon. Amazon's publishing divisions are CreateSpace for physical books, and Kindle Direct Publishing (KDP) for the Kindle format. By the way, you can publish your own original books for sale on these sites too!
When you create an account at one or both of these sites, you will be guided through every step to publish your first book.
Below are some general directions on how to get your book published through KDP and CreateSpace.
Pick a Book Title
There are thousands of public domain books to choose from. Go to GutenbergProject or do a Google search using a title you're already familiar with or a search term for a subject you're interested in.
Make sure you're able to get the full text of the book before you go any further.
Format the Book
Check out all the text in your book. Make sure the formatting is correct:
Check that the heading for each chapter is in the proper place.
Check for any major spelling errors.
Make sure the Table of Contents is correct.
Generate a linked table of contents using your favorite text editing tool.
Create a Cover for Your Book
If you're handy with design on the computer, you can create a book cover yourself. Otherwise you can hire someone else to create a book cover for you. Unless you know someone who will do it for free, hiring someone will cost you a hundred bucks or more.
However, hiring a professional can be a good move if they can create a cover that draws attention and helps drive sales.
Convert The Text to the Kindle Format
When setting up your book for sale in the Kindle store, you'll need to format it for the Kindle platform. Amazon provides a free tool to help you do that.
The Kindle Generator will help you convert your cover art, table of contents, and text into a mobile format the Kindle hardware can display properly.
Finishing Touches
Once you have everything converted to the Kindle format, then you can finish the job and post your book to the Kindle store.
You'll need to:
Write a great description that will compel customers to buy the book.
Generate keywords that make your book searchable in the Kindle store.
Set the price for your book.
It usually takes Amazon about 24-48 hours to post your book in the store once you hit publish. You can start making money in no time!
How You Get Paid for Your Public Domain Book
Each time someone purchases your book on Amazon, you get 35% of the sale price. You'll be paid monthly for your efforts. Of course, the more books you have in the store and the more you promote them, the more you'll sell!
How to Start a Home-Based Amazon Business- 5 Profitable Ways to Do It
How to Sell More Books
One of the best things you can do when you publish a public domain book is to differentiate your book from others in the store with the same title.
Amazon encourages this by requiring you add value to set your book apart from the rest. If someone already has a free version of your book in the store, you can't charge for it unless you have some type of added value attached. There are several ways you can add value:
Add a biography of the author.
Additional research into the history of the book.
Original illustrations.
Annotations
Commentaries
How Much Can You Earn?
How much can you earn selling public domain books? Well, that depends on you! Your earnings will depend on several factors:
The titles you choose- some will be more popular than others.
The number of books you have for sale. The more titles you have available, the more you will sell overall.
How much you promote each book.
Overall, you can make anywhere from $100-$200 per month up to thousands of dollars depending on the factors above.
There are even some people who make a full time living this way!
How Difficult is it to Get Started?
Getting started with public domain publishing is not extremely hard. However, the process of finding a good title and setting everything up can be a little technical.
But if you're used to using a computer, you should be able to get the job done and start making money! Just like anything, the more times you do it, the easier it gets!
Give Public Domain Publishing a Try
This money making idea is one of those I've thought about doing for a while. But, being as busy as I am with the blog (and everything else!) I haven't tried it yet.
So if you decide to try it out, give me a shout and let me know how it's working out for you!