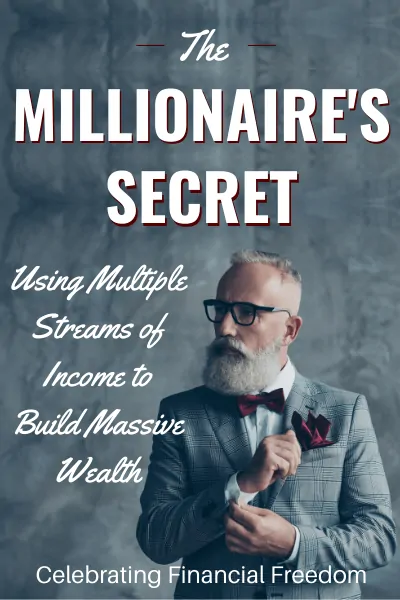 Did you know the average millionaire has 7 different streams of income? According to most experts, making money through multiple streams of income is a huge factor in how financially successful you become.
I'm a big believer in the concept. In fact, the first time I heard about multiple income streams of income I was blown away by its obvious ability to build wealth and sustain it over the long term.
Because it's such a powerful concept, I thought I'd share it with you in today's post!
Multiple Streams of Income are the Key to Wealth
Earning money from more than one source is one of the great keys to wealth, especially when you're able to generate passive income streams that don't require a lot of time and effort on your part (more about those later).
I've been earning money from multiple sources for several years now, and I'm always on the lookout for more. I'm especially interested in earning more passive income.
In this article I'll show you:
Why you need multiple streams of income.
Why earning money from many sources is critical to building wealth.
The 4 types of income you can earn, and why some are better than others.
The different streams of income that I personally have.
A practical example of a school teacher building huge wealth using seven streams of income.
What the Bible Says about multiple streams of income.
Resources I trust to help you learn more about building extra streams of income.
The Definition of Multiple Streams of Income
The term Multiple Streams of Income sort of speaks for itself.  It's the concept of earning income from more than one source at the same time, thus multiplying your earning power and creating a more secure income than if you only had one source of income.
Why Do You Need Multiple Sources of Income?
Diversifying your income through multiple streams is extremely valuable, because if one type of income dries up, you still have other sources of money coming in instead of losing your entire income altogether.
Think about it- if your entire income is from an employee job, then you're putting yourself at risk.  If your company decides to eliminate your job for any reason, then you have zero income until you find another one.  Thus, you have very little control over that stream of income.
Less Risk, More Control
Getting your income from several sources helps you to be less exposed to financial risk.
But beyond that, when you have more than one stream of income, you're much more likely to create exponentially more income than if you only make money from just one source.
It allows you to have much more freedom and control over your financial life than if you earn income from only one or two sources. That's crucially important in today's economy, because the nature of work is changing quickly.
The Nature of Work is Changing
I believe diversifying your income with multiple streams is more important than it's ever been. The workplace is changing rapidly due to technology, globalization, and other forces you'll never be able to control.
In the coming years, millions of workers are going to be displaced by incredibly intelligent technologies, such as AI (artificial intelligence), that are becoming more incredible every day.  If you want to be one of the few who know how to prosper in the ever evolving tech revolution, you need to be prepared.
Multiple Sources of Income Keeps You Protected
Millionaires understand that when you have money coming in from multiple sources, the more protected you are during a downturn, job loss, personal health crisis, technical innovation, or anything else that has the potential throw your income for a loop.
If one or two sources of income dries up, you still have several others to keep you afloat while you rebuild.
The Cashflow Quadrant
I first learned about the different types of income in Robert Kiyosake's book, The Cashflow Quadrant. In my opinion, it's one of the best books written about the different types of income you can earn, and which ones are the best. The first time I read this book it totally blew my mind! I'd never seen these concepts taught anywhere before.
You can find out more about The Cashflow Quadrant in my list of resources at the end of this post.
Kiyosake's 4 Types of Income
Kiyosake teaches that the four types of income are:
Employee Income
Self-Employed Income
Business Owner Income
Investor Income
Employee Income
Employee income is the type that almost everybody earns. If you have a job working for someone else as an employee, you're making employee income.
This is the most basic type of income, and the most risky too.
Why is employee income risky?
It's because all the power rests in someone else's hands.  If the person (or people) in charge decide they don't need your services anymore, then you'll be let go.  If this is your only income, you make no money until you find another job.
Self-Employed Income
Income from self-employment is a step up from employee income. Of course, when you're self-employed you can be your own boss, which has its advantages.
When you're self-employed you call the shots. Your success depends completely on you and your ability to do good work for your clients.
The Downside of Self Employed Income
However, the down side of self-employment income is that everything depends on you. If you get sick or want to take a vacation, you don't make any money.
This is why a lot of self-employed people are over-stressed and overworked. They have a ton of responsibility and get little time off to relax.
Being a practicing dentist, I know about this from first-hand experience. My job is extremely rewarding but very stressful and I don't get much down time.
Making all your money from self-employment can be so much more rewarding than employee income.  But it's still risky unless you have other streams of income as well.
Business Owner Income
As a business owner you have a greater capacity to generate a huge income. Unlike the self-employed, business owners don't do all the work themselves.
Business owners hire other people to do most of the work while they run the business. When you're able to manage your business and let other people do the work, your business income grows exponentially over what you can accomplish when you're self-employed.
If you get sick or want to take a vacation, the business continues to operate without you while you still earn money from it.  It's a much less risky position to be in than being an employee or self-employed.
Investor Income
Investor income is the pinnacle of income. Income from investments is passive income that you don't have to do a lot of work to generate. It's truly the most passive type of income there is. When you have enough money to live off your investments, you get to live life a lot differently than everyone else.
Investors make their money investing in other people's businesses, dividend paying stocks, rental properties, and other investments that require a minimal amount of work.
People in this category have unlimited earning potential. They can build wealth much faster than people in other income categories, especially if they reinvest much of their earnings into other investments.
How to Start Investing- The Ultimate Beginner's Guide to Investing Your Money
My Personal Income Streams
Now that I've introduced you to the 4 types of income I thought you might be interested to hear about me, and the income streams that I personally benefit from. Here's a list of my income sources according to each type of income:
Employee Income:
Dental practice income working 4 days a week at one office.
Dental practice income working 1 day a week at another office.
Self-Employed Income
Income from running my blog- this includes making money from ads, selling courses, selling books, paid links, sponsored posts, etc.
Business Owner Income
None- I don't currently own a business with employees producing income on my behalf.
Investor Income
One thing I came to understand years ago is that as a dentist, making an income that only my two hands can produce has it risks and limitations.
Don't get me wrong, I love being a dentist and I make a VERY good living compared to most people.
However, my goal is to have the freedom to work less hours, take time off when I want, and earn income without having to physically produce it with my two hands every single day. This is how financial freedom is built!
How to Create Multiple Streams of Income
So now that you're armed with the basic knowledge about multiple streams of income, how do you create it for yourself?
Well, it's not something that happens overnight. You have to:
Work hard,
Be intentional,
and most of all, be patient.
It takes time and effort to build income from multiple sources.
You Have to Work Hard
You're probably not going to be able to quit your job and immediately start making money from multiple streams of income. It'll take some extra effort on your part in addition to your job to make it happen.
The more effort you put in, the more it eventually pays off, especially when you focus on more passive types of income that make money while you sleep.
You Have to Be Intentional
Your best bet is to build multiple streams one at a time. That takes intentional focus on specific goals. Once you decide to develop a particular stream of income, work hard on that one thing until it's consistently producing income for you.
Once you have that income stream running smoothly, then you can develop the next one, and continue building new streams of income one by one as opportunities arise.
You Have to Be Patient
It takes time to build multiple streams of income. For instance, I wanted badly to invest in real estate 20 years ago. However I absolutely refused to go into debt to do it.
It took me around 15 years to save up the money to pay cash for a small house that I flipped for a profit. I sold that house bought a rental property shortly after that. Now I'm getting over $1,000 every month in passive rental income with almost no effort on my part!
I've been saving and investing those rent checks, and in a few more years I'll be able to buy another rental property and multiply that passive income stream.  My goal is to eventually purchase more and more rental houses generating tens of thousands of dollars in income every. single. month!
7 Streams of Income- The Millionaire's Secret
As I mentioned at the top of the article, the average millionaire has seven streams of income. I'm not totally sure that's a secret, but I do know that a lot of people aren't aware just how many sources of income the typical millionaire has.
Keep in mind, this is a process that takes years to build. We like to think that people become millionaires quickly, but in reality it takes years of effort to make it happen. The good news though, is that once you get everything in place, your earning power is exponential!
Let's take a quick look at what that might look like for someone who has been intentional in building their income streams.
Ideas for Building Multiple Income Streams- Gina the Teacher
I'll base these ideas on an average person who aspires to be a millionaire. Let's call her Gina. Gina is a school teacher, and as we all know, school teachers usually don't make a lot of money.
So what are some ideas she can use to build multiple streams of income and eventually achieve millionaire status?
Income Source #1- Employee Income
First, she has her job as a teacher at an elementary school. It's her primary source of income. It pays the bills, has good benefits, and allows her to live a pretty average life.
Income Source #2- Tutoring
Gina also does private tutoring for students as a side income. She makes about $40-$50 an hour tutoring several students a week, and this allows her to make an extra $1,000 a month.
But instead of spending that money, she decides to invest it into mutual funds.
Income Source #3- Teachers Pay Teachers
Gina also spends her time during summer break developing curricula and other resources for her fellow teachers, which she sells on TeachersPayTeachers.com.
She makes another $500 a month with this income source, which she also invests into mutual funds. This is a relatively passive income stream that needs little upkeep once the initial work is done.
Income Source #4- Mutual Funds and Dividends
With all the extra money she makes, Gina is smart about how she uses it. Instead of spending it on extras, Gina invests that money in mutual funds. Not only do the mutual funds grow in value as the stock market rises, but she also reinvests the dividends into new shares, making her investments grow even faster through the growth of passive dividend income.
Income Source #5- Real Estate
After a number of years of socking away her extra earnings into mutual funds, Gina has saved enough to diversify her investments into real estate. She is able to pay cash for a small rental property that nets $1,000 a month in passive rental income.
Gina reinvests the rental income into mutual funds along with her other sources of side income, and now things are really starting to cook!
Income Source #6- Online Courses
Gina has done so well at building multiple income streams, she becomes inspired to teach other teachers how to do it too! She spends one summer putting together an online course based on her experience, and sells it to other teachers and education professionals. It's another relatively passive stream of income that makes money while she sleeps!
She sells her course at an affordable price and her fellow teachers love it! She makes another $500 a month, which she reinvests in mutual funds, and eventually, more real estate.
Income Source #7- Gina Sells an Ebook
Eventually, Gina spends another summer writing an ebook that teaches the same concepts as her online course. It was pretty easy to write since she already had plenty of content from her course to use in writing the book.
She sells it on Amazon for a few bucks, and makes around $200 a month in passive income.
The Results of Gina's Many Income Streams
Of course, Gina didn't build these streams of income overnight. She built them over many years, and made sure most of her income streams were passive so they did not require constant work to maintain.
She lived modestly on her salary as a teacher, and invested her other streams of income to build an incredible amount of wealth over time. As her savings increased, she paid cash for more and more rental houses, which brought in more money, which allowed her to snowball her real estate investing exponentially!
As you can see, it takes time and discipline to build wealth with multiple types of income. But if you stick with it, you can create millions of dollars of wealth, even if you have a day job with a modest income.
Here's a real life example of teachers building wealth with multiple income streams.
Multiple Streams of Income in the Bible
This being a Christian personal finance blog, I thought it would be a good idea to see if the Bible has anything to say about the concept of having many streams of income.
Here are a couple of good verses I found:
"Invest in seven ventures, yes, in eight; you do not know what disaster may come upon the land."- Ecclesiastes 11:2
"Sow your seed in the morning, and at evening let your hands not be idle, for you do not know which will succeed, whether this or that, or whether both will do equally well."- Ecclesiastes 11:6
All in all, biblical financial principals are all about multiplication and exponential growth. God wants you to build wealth using His financial principals so you can grow the kingdom and enjoy some for yourself as well!
Many streams of income will help you do that to a degree that just one source of income can't. It's a more lucrative and secure way to look at earning income, and when done right can help you build incredible wealth independence!
My Recommended Resources for Generating Multiple Streams of Income
There is tons of information out there on how to earn extra income. My best advice is to thoroughly educate yourself in ways to make money from multiple sources, and don't be afraid to take action to make it happen!
Here are some of my favorites to get you started:
Courses
Making Sense of Affiliate Marketing
Books
Everyday Millionaires: How Ordinary People Built Extraordinary Wealth—and How You Can Too by Chris Hogan
Multiple Streams of Income: How to Generate a Lifetime of Unlimited Wealth by Robert G. Allen
Multiple Streams of Internet Income: How Ordinary People Make Extraordinary Money Online by Robert G. Allen
The $100 Startup: Reinvent the Way You Make a Living, Do What You Love, and Create a New Future by Chris Guillebeau
Rich Dad's CASHFLOW Quadrant: Rich Dad's Guide to Financial Freedom by Robert Kiyosaki
48 Days to the Work You Love by Dan Miller
4 Hour Work Week by Tim Ferris
Websites
Smart Passive Income– Pat Flynn
My Wife Quite Her Job– Steve Chou
48Days.com– Dan Miller
4HourWorkWeek.com– Tim Ferris
Videos
Smart Passive Income TV with Pat Flynn– YouTube Channel
My Wife Quit Her Job YouTube Channel
Social Triggers- Derek Halpern YouTube Channel
MarieTV- Marie Forleo YouTube Channel
Question: How many sources of income do you have? What ideas do you have to increase how many streams of income you have? Leave a comment on our Facebook Page or below and share your thoughts!