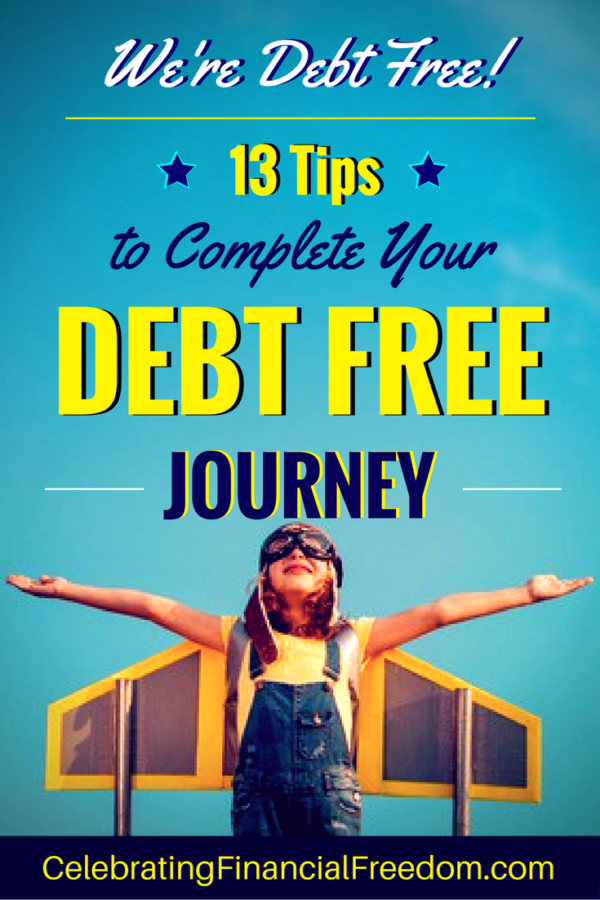 WE'RE DEBT FREE! It's one of those great phrases everyone wants to scream out loud to just once in their life. But sometimes it can be a long hard road to get there. I've seen plenty of people start the process of getting out of debt, but most of them don't follow through to the end.
In fact, in a recent survey of my CFF readers, 63% said they've tried to get out of debt one or more times and failed. As a result, they're still in debt and asking themselves "now what?"
You Can Still Become Debt Free
One of the things I try to stress to people who've tried and failed to get out of debt, is that just because you didn't succeed, it doesn't mean you can't get out of debt for good.
There are a lot of things that can derail getting out of debt that will get you discouraged and cause you to give up. But when you recognize the potential pitfalls and take steps to keep them from happening, you can keep your get out of debt plan on track!
13 Tips to Complete Your Debt Free Journey
So here are 13 things you can do to power through and complete your debt free journey.  These tips will help you overcome your obstacles and finally be able to exclaim those famous words, "we're debt free!"
You can find the tips below (and more!) in the CFF Get Of Debt Course
Get an Accountability Partner
Having someone keep you accountable financially can be a huge help to keep you on track. Of course, if you're married, you and your spouse should be working together and keeping each other accountable. You could even have another couple who is debt free help you both stay on track.
If you're single, find someone who you know will tell you the truth when you need to hear it. Preferably it will be someone who has been through their own debt free journey already. Having an accountability partner who doesn't have complete control over their own finances is probably not a good idea.
Go Naked
Going naked is one of my favorite things to do! No, I'm not one of those creepy people who traipses around in my birthday suit and vacations at "special" resorts.
What I mean by going naked is that you completely get rid of credit cards. You're going naked with credit!
Continuing to use credit cards is one big reason so many people fail at getting out of debt. Your best bet is to use a zero based budget combined with a cash envelope system and an emergency fund to run your finances.
It's just too easy to fall back into old habits when you have a credit card available. They're a crutch you don't need, so GET RID OF THEM!!!
Here are some resources to help you out:
How to Start an Envelope System and Budget With Cash
9 Ways to Build Your Emergency Fund Quickly
How Do You Get Out of Debt? (Part 3)- $1G for an Emergency Fund
6 Tips For Dealing With a Financial Emergency
Use the Envelope System
This goes hand in hand with going naked (ok, that sounds a little weird…).  Anyway, using cash in an envelope system ensures that you only spend money you have. It keeps you from spending more than you make and running up debt that keeps you in constant bondage.
Angie and I have been using the envelope system for over 12 years now.  I can tell you it's one of the best things we ever did to ensure our success on our debt free journey!
Make a We're Debt Free! Board
What is a We're Debt Free! Board? It's a vision board showing what your life will be like when you become debt free.
You can place images on your We're Debt Free! board like a paid for car, a debt free house, shredded credit card bills, or a paid for vacation to your dream destination.
Whatever you envision for your debt free future can be posted on your board to keep you focused and motivated toward your goal.
I'll Say it Again- Do a Budget!
This is something I stress every chance I get. Along with the envelope system, a zero based budget is absolutely necessary for getting out of debt.
Some people tend to shy away from doing a budget for a lot of reasons. But if you're not doing a budget, you are setting yourself up for failure!
Stop the excuses!
Budgeting is only third grade math.  Yes it can be a little hard to wrap your mind around it at first.  It takes a few months to get good at it.  But if you stick with it, it's the best thing you can do to accelerate your debt free journey and develop good financial habits!
Check out the CFF Budgeting Page
Check out my book- Balance: The Quick and Easy Guide to Financial Stability Using a Budget
Don't Borrow More Money
You'd be surprised how many people try to get out of debt but keep using debt while they're doing it. Whether it's continuing the credit card habit or taking out a home equity loan, it just doesn't work. You have to swear off all new debt if you want to truly succeed.
That's what getting out of debt is all about, right?
Learn to Be Patient
In most cases, you're not going to pay off all your debt in a few weeks or a couple of months. Sometimes it takes years of chipping away at it, making excruciatingly slow progress.
Learn to be patient and keep moving forward. Even if you have setbacks, keep your ultimate goal in mind and find a way to keep going.
All your hard work WILL pay off one day!
Here's a blog post to help you stay motivated
Find Ways to Make Extra Money
This is a huge accelerator for getting out of debt! It's especially good for someone who doesn't have a lot of patience.
Making extra money that you put exclusively toward debt is like adding gasoline to the fire!  Your debt free journey will proceed exponentially faster when you do it this way.
You might have to sacrifice your time and energy for a while. But it's only temporary. You might even find that generating extra income is a great way to build your retirement investments once you pay off your debt!
Check out the CFF Money Making Ideas Page
Learn to Accept Setbacks
Setbacks are going to happen. Don't let a temporary situation deter you from your goal. If you have to put your goal of debt freedom off for a month or two while you clean up a financial mess you didn't anticipate, that's fine.
But don't let a setback discourage you and sidetrack your debt free journey for good.
Continue on after the mess and keep fighting toward your goal.
Give Yourself a Small Reward
Getting out of debt usually comes with a lot of sacrifices. But just because it can be tough doesn't mean you can't have a little fun!
Each time you pay off a debt, treat yourself!
I don't mean you should go out and buy yourself a pair of Jimmy Choo's. But a nice victory ice cream cone or a ticket to the movies may just be the little reward you need to refresh your spirit and celebrate each little victory along the way.
Make Sure Your Serious About Becoming Debt Free
You'll never get out of debt if you're ambivalent about it. Unless you're fully committed to the process you will never achieve debt freedom.
That's why I tell people you gotta get mad!
You have to get so mad about your situation that there is no way you're ever going back! Get your emotions involved and let them be a fire that keeps you motivated toward success!
Be Willing to Change
This is one of the biggies! You can't change your financial life doing the same things you've always done.
You have to learn new ways to think about money.
You'll have to learn new habits with money.
Change can be difficult and painful, but it's the only way you grow into the person you know you need to be. The cool thing about change though, is once you go through the process, you'll wonder what all the fuss was about!
You always come out better on the other side!
Learn How to Say No
Part of changing your mindset and forming new habits is learning to say "no" when you really want to say yes to a purchase. It's definitely not easy when you have a tendency to spend freely and don't often say no to spending money.
It's hard to say no to yourself.
It's hard to say no to your friends when they want to go out.
Your kids don't like to hear "no" either.
But that's probably what got you into a financial mess in the first place.
Learning to say "no" doesn't mean you can't have fun. You don't have to say no to everything during your debt free journey. You have to learn to make better financial decisions and understand the fact that many times saying "no" now means "yes" to a better financial future!
You Won't Regret Completing Your Debt Free Journey!
Paying off debt can be a long, slow, difficult process. But I can guarantee if you stick with it and see that process through to the end, you won't regret it for a minute!
Getting rid of all our consumer debt is one of the best things Angie and I have ever done!
We've been able to have and do things we couldn't do before.
We've had less stress and zero money fights in over 10 years!
Being debt free has allowed us to pay cash for three college degrees, 6 vehicles, our daughter's wedding, and every vacation for the last 15 years (among other things)!
You Can Do it Too!
The point of this article is to help you understand that you can do this too! No matter how deep in debt you are, you can make it happen if you really want it!
And when you finally pay off your debt, you'll have:
Have a We're Debt Free! Party
When you finally get there, throw a We're Debt Free! party for yourself and everybody close to you. Getting out of debt is a huge accomplishment to celebrate! (Just watch the We're Debt Free Shaytards video to see what I'm talking about).
The great thing is, once you do, other people will want to know how you did it.
Then your efforts will not only change your world, but theirs too!
Question: Have you ever tried to get out of debt and failed? What was the #1 reason why it happened? Leave a comment on our Facebook page or below and tell me about it.