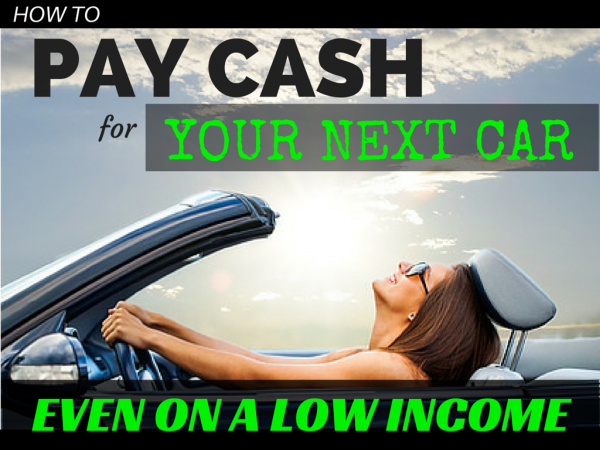 Let's face it, cars are expensive. Most of us need at least one car, and if you have a family, sometimes it can be hard to get by unless you have two. But when you have a low income, buying and maintaining vehicles can put a huge dent in your budget. In this article I'll show you that you can pay cash for your next car, even if you have a low income. In fact, if you follow what I teach in this article, you will never have a car payment again!
Let's get started…
Never Have a Car Payment Again
If you're like most people, you have a car payment. The goal here is to totally get rid of your car payments and never go back. But when you don't have a lot of money, how can you do that?
If you're living on a low income, it's difficult to save enough money to pay cash for a car. However, being able to pay cash for a car is not as much about money as it is about strategy. Here are several things you can do to get the job done and never have a car payment again!
Get The Right Mindset
One of the most important things to consider when you want to start paying cash for your cars is that you have to get over the mindset that says you have to have a car payment. Car payments are not a necessity, even in today's economic environment. Anyone can drive paid for cars if they want, but most people think they can't afford to do it. When you have the right knowledge and put it into practice, paying cash for a car is really not that hard.
Drive Your Car Until The Wheels Fall Off
When I buy a car, my goal is to drive it until it has at least 250,000 miles on it. My last vehicle was a Jeep Grand Cherokee that finally died at 320,000 miles!
The longer you drive a car, the more time you have to save to pay cash for the next one. You don't have to have a different car every couple of years to be happy. That's the kind of mindset that gets you into trouble and keeps you in bondage to your car payments year after year. I drove that Grand Cherokee for 13 years before it died!
Save Money
While you still have a car payment, if you can afford to put any extra money back for your next car on a regular basis, do it. Even if you can only save $20 a month it's better than nothing. Obviously more is better, but with a low income you may not be able to do much, if anything at all. But if you can save some extra money, this puts you ahead of the game when it comes time to trade or sell your old car.
Make Extra Money
If you can find a way to make some extra money to save toward your next car, do it. That way, when it's time for your next car, you may be able to pay cash for the entire amount.
Here are some of my best ideas for making extra money
Only Buy Used Cars
I think brand new cars are for suckers! Brand new cars are expensive, and they lose a lot of value very rapidly. There are plenty of reliable, affordable used cars that can serve you well for many years.
Don't fall prey to peer pressure, pride, or marketing that says you need to buy a brand new car. That's what broke people do. You can find a good car at a good price without resorting to a smoking heap of metal with a bad paint job.
I'm a perfect example. Even though I make a very good six-figure income, I drive a 13 year old car. It's actually a very nice used Lexus that runs like a top and gets me around town in style. The best part about that car is that it's paid for!
The average millionaire buys used cars, and you should too!
When You Pay Off Your Car, Put Money in the Bank
Once you get your car paid off, put your car payment in the bank to go toward your next car. Don't treat it like found money and start spending it on other stuff. Paying cash for a car means you have to manage your finances different than you once did.
If you make the effort to start putting that money in the bank once you've paid off your lender, you will have enough money to pay cash for a nice used car in 2-3 years. If you drive your car until the wheels fall off, you can easily pay cash for your next car.
Start Small
You may only be able to save a little before you need your next car. If that's the case, buy the cheapest car you can, drive it for 6 months or a year while you're saving more money, then sell that car and use the proceeds to upgrade to a better one along with your saved cash. Do this two or three times in a row, then you can pay cash and be driving in style in just a couple of years, without a car payment!
Be Patient
It takes time to save enough to pay cash for a car. Be patient and keep working your plan, you will get there eventually. If you can only save enough using these techniques to pay for half of your next car, you're still ahead of the game compared to most people. Keep working at it, keep saving, and you'll be able to pay cash for the next one.
I Pay Cash For My Cars
About three or four years after I bought that Jeep Grand Cherokee, Angie and I decided to get serious about our finances and get out of debt. Part of that process was getting rid of our car payments. We had two car payments at the time, and made a pact to drive both of those cars until they had at least 250,000 miles on them.
Once we got those cars paid off, we were diligent about putting those car payments in the bank. Since then, we've paid cash for all of our cars and don't miss those car payments in the least.
This stuff actually does work if you stick with it!
You Can Pay Cash For Your Next Car Too!
Even with a low income, paying cash for a car is not as much about money as it is about having a strategy. Most people end up with a car payment because they don't have a plan.
When it's time to buy a car, lack of a plan and no cash forces you to make the only choice you can "afford". The cycle of car payments continues, and because of that you always owe money to the bank, spending more than you should because of interest and fees.
Here's the deal, if you can pay a car payment, you can pay cash when you have the right plan.
Question: Did you ever let lack of a plan force you into getting a car payment? I know I did! Leave a comment and tell me how it worked out for you.