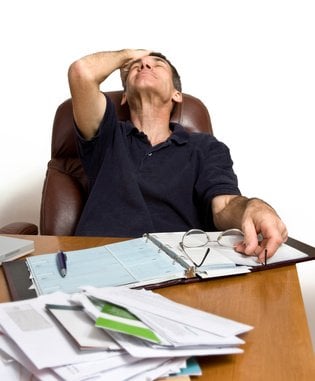 Do you constantly have financial frustration in your life? If so, you're certainly not the only one experiencing that problem on a daily basis. In fact, a recent Wall Street Journal article stated that almost half of all Americans would have to sell some possessions in order to come up with $2,000 cash within 30 days.
We're Not Meant for Financial Frustration
So many people in America today seem to never be able to get ahead and are perpetually living paycheck to paycheck. But for those of us who are people of faith, we have to recognize that this is not the kind of life God wants for us to lead. It is not His will for us to live our lives in a constant state of frustration, struggle, and lack.
_______________________________________
"For I know the plans I have for you… plans for welfare and not for evil, to give you a future and a hope."- Jeremiah 29:11
_______________________________________
In fact, He wants us to experience the opposite of struggle in our lives. His will for us is to have abundance and success in all that we do, not to live in financial bondage.
Especially in our finances.
This is why there are well over 800 verses in the Bible dealing with money and finances that show us the way to becoming successful in our relationship with money.
But there is a very important piece of the puzzle that so many of us miss, and that missing piece is taking action.
We so desperately want God to bless our financial situation. We pray for more money, a higher paying job, profitable investments, or a million other ways for money to be provided. But we stop short of taking any action toward creating the abundance we seek.
I've been guilty of that at different times in my life, so I'm not trying to throw stones here.
But the point that I want to get across is this:
in order to get rid of the money struggles in your life, you have to take action and make something happen in addition to just praying for more.
Fight Financial Frustration With Action
God loves action. When you start acting in ways that show Him you're a good steward of what He's already provided for you, He will see to it that you have even more.
So what does it mean to take action that will ensure that you can be trusted with more?
It means using your money wisely and keeping away from the bondage that is debt.
It means doing your job to the best of your ability and becoming a rock star at work, even if you hate the job you're in. You won't go to the next level by phoning it in and constantly complaining about your J-O-B.
It means not wasting part of what you have because you don't use a written plan (a budget) to keep track and eliminate the money leaks that are inevitable without one.
It's about creating generational wealth, leaving a legacy that lives on long after you're gone. This comes through investing money consistently.
It means being a giver. Becoming successful starts with being a giver of time, money, expertise, encouragement, and anything else you can give.
Whatever it is you want multiplied, you must sow it first.
Taking action to show that you're serious about changing your situation is the seed that will take hold in the fertile soil of God's grace and will for your life.
Also, taking action will serve to water and fertilize that seed that will eventually return back to you in multiplied ways.
Taking action proves that you are a producer and not just a taker.
From Financial Frustration to the Next Level
So if you want to continue living in frustration, especially in financial frustration, then ignore everything you just read.
But if you want to grow to the next level, and the next, and the next, then you need God, but he also needs you and your actions!
When you finally decide to get active and open yourself up to those blessings through the actions you take, then, and only then, will the frustration ease and you can be the shining city on a hill (Matt. 5:14-16) that He has called you to be.
Question: What actions are you taking to eliminate your financial frustration?
Leave a comment and let me know.
Resources:
Living Paycheck to Paycheck?- How to Get Ahead
How to Save for the Future When You're Living Paycheck to Paycheck
Dream- What Are You Doing About Yours?
Should You Tithe While Getting Out of Debt?
Are Money Leaks Ruining Your Financial Foundation?
More Posts Dealing With Desperation and Hope