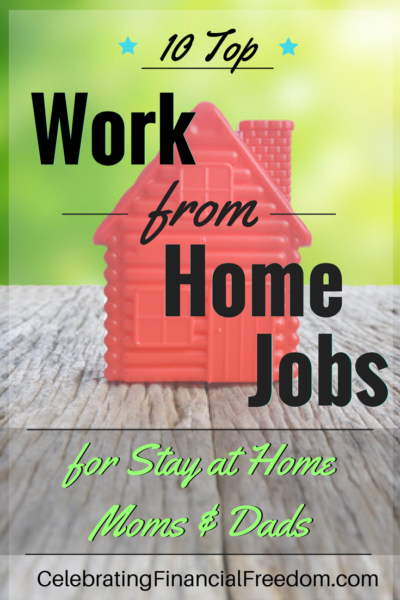 Work from home jobs are more popular than ever. When you make the important family decision to stay at home with the kids, there are plenty of things you have to consider before you make the leap. Being a stay at home mom or dad takes serious planning if you want to get it right. As a stay at home parent, you have to make sure your family makes enough money to live on, plus put money into savings and still have enough for vacations, college, and anything else that's important to you.
One Income Doesn't Cut It Anymore
Time have changed. The days of the one income family are long gone. Most families just can't accomplish all their financial goals if one parent stays at home without generating an income.
The great thing about changing times though, is that now it's way easier to work from home than it used to be!
Work From Home Jobs You Can Start Now
There are tons of jobs you can do from home that don't involve stuffing envelopes or other lame, scammy activities. In most cases, you can set your own hours and make enough money to keep your family above water financially. Best of all, you get to spend more quality time raising your kids!
10 Top Work-at-Home Jobs for Stay at Home Moms and Dads
Here are my top 10 work-at-home jobs you can use to make great money for your family. You should also check out my friend Caitlyn Pyle's Work-at-Home Summit. Caitlyn is the ultimate guru when it comes to working from home! You'll be amazed at the extreme amount of free content she provides from dozens of top experts to help you find the home based work that fits you perfectly.
Check out Caitlyn's Work-at-Home Summit Here.
Freelancer
Freelancing using skills you already have is a great way to make money while staying home with your kids. As a freelancer, you have the freedom to pick and choose projects as you like. You can take on as much or as little work as your schedule allows. There are tons of skills that lend themselves to freelancing, such as:
Word processing
Software coding
Photoshopping Images
Social Media manager
Freelance writing
Web design
Data entry
Creating spreadsheets
App development
Product design and manufacturing
Graphic design
Virtual assistant
These are just a few of the skills you can get paid for as a freelancer. Pretty much any computer skills you have can be a moneymaker in the freelance marketplace. The great advantage to being a freelancer is that you can keep your business skills sharp without having to work full time!
Check out Freelancer.com and Upwork.com to find freelancing gigs
My Top Articles on Freelancing:
9 Ways to Make $1,000 (or More!) a Month as a Freelance Writer
Money Making Idea #4- Freelancing Using Your Existing Skills
How to Make Money Freelancing- Increase Your Income!
Start an Etsy Business
If you're creative, this profitable side hustle may be right up your alley! Building a business on Etsy is a great way for stay at home parents to make extra money.
Etsy is an online marketplace for creatives to display their wares and make money in the process. You'll find everything there from basic arts and crafts to fine art costing thousands of dollars.
All you have to do is set up your Etsy shop (takes just a few minutes) and start selling! As you build a business there, you might even find you want to transition your Etsy shop to a full time work from home business once the kids are older. Who needs to go back to the corporate world when you can do your own creative business?
How to start a business on Etsy- Everything you need to get started
Work Part Time at Your Regular Job
More and more traditional employers now let employees work from home. You can negotiate with your employer to work less hours and do it from home while your raising your kids. Later, you can go back to full time hours when the kids get older.
However, many businesses require that you keep regular office hours when you work at home. If your employer requires you keep office hours, then working your regular job may not be the best fit for your situation.
[tweetherder]10 Top Work From Home Jobs for the Stay-at-Home Mom or Dad [/tweetherder]
Open an Ebay or Amazon Store
Opening an online retail business through Ebay or Amazon has never been easier! Just pick what products you'd like to sell, open up your store and start selling. Ebay and Amazon are great for stay at home parents because you can keep your own schedule and sell as little or as much as you like. How busy you are is totally up to you and how much product you offer for sale.
Here are a couple of articles that'll show you how to get started working from home with Ebay and Amazon:
How to Sell Stuff on Amazon FBA for Beginners
How to Work from Home with Amazon- 5 Profitable Ways to Do It
Resell High Fashions (and Other Stuff) on Ebay
Fitness Instructor
If you're into fitness, then being a fitness instructor might be a great fit for you as a stay at home parent. You can teach a few classes a week at your local YMCA or fitness center to bring in extra money.
You'll likely need to be certified as a fitness instructor to lead classes. However, the certification process isn't massively difficult so don't let that deter you. Do your research online to find out what kind of certifications you'll need.
Run a Daycare From Your Home
If you don't mind dealing with more kids (and their parents), running a daycare is a good moneymaker. In many areas you can keep as many as 4-5 children without a license.
You'll be performing a needed service working parents will appreciate. And you'll likely be able to provide childcare at a lower cost than the large licensed daycare down the street. You'll be able to give clients more personalized service in a more home-like setting too!
Be sure to research your local daycare laws so you do everything right. You definitely don't want to get clients and then discover you're running an illegal daycare!
Seamstress/Alterations
Less and less people know how to sew these days. If you have that skill in your bag of tricks, there are plenty of people who need you! Depending on your skill level, there are plenty of things you can do, like:
Hemming pants
Hemming dresses
Altering suits
Clothing repair
Making baby/children's clothing
Fitting prom dresses
There is very little expense associated with a seamstress/alterations business, so the profit margin on this work from home business can be really nice!
Teacher
If you have a background in education, there are plenty of ways to make money without having to spend your day in a classroom.
As a virtual teacher online, you can teach any level from kindergarten up to college. Schools are always looking for teachers to fill these positions without having to overwork their classroom teachers. Since you'll work from home online, you'll be able to plan your classwork around family time.
Tutoring is also a lucrative way to make money as a stay at home mom or dad. You can make upwards of $40-$50 an hour tutoring kids at any age level you have experience with. My wife Angie has been using this little side hustle for years to make extra spending money, buy furniture, and remodel our kitchen!
12 Easy, High Paying Side Hustles for Single Moms12 Easy, High Paying Side Hustles for Single Moms
Multilevel Marketing
A lot of stay at home parents get into multilevel marketing (also called Direct Sales). There are dozens of direct sales opportunities available selling anything from cosmetics to fitness products.
Many of them require an upfront investment to get started. But if you're a people person and you don't mind making phone calls to clients and hosting parties, this will be a good fit for you.
One advantage is that you'll be able to meet new people and have adult conversation. That's a huge deal when you're cooped up in the house with kids all day!
Angie did multilevel sales for several years when our kids were small. It was an ideal way for her to work from home, make new friends, and learn her way around her new hometown!
Start a Baking Business
Baking sweet treats is a great way to make money. You can also teach your kids how to cook in the process (assuming they're old enough)!
People are willing to pay good money for delicious treats because they don't have the time or the skills to do it themselves. As you build a reputation in your social circles with your baking prowess, you can build a thriving part time home business to help provide for your family.
Here's a detailed post about how to make money with a baking business.
Staying Home With the Kids Takes Planning
It's a wonderful thing to be able to work from home while your kids are young. Even though it might be harder to handle financially than it used to be, you can still do it without a serious dent in your standard of living.
The most important thing is that you have a plan before you transition to becoming a stay at home parent.
Do a budget, make a plan for making money from home, and make sure the numbers work before you take the leap.
Have you tried any good work-at-home ideas you'd like to share? Leave a comment and let us know about it.