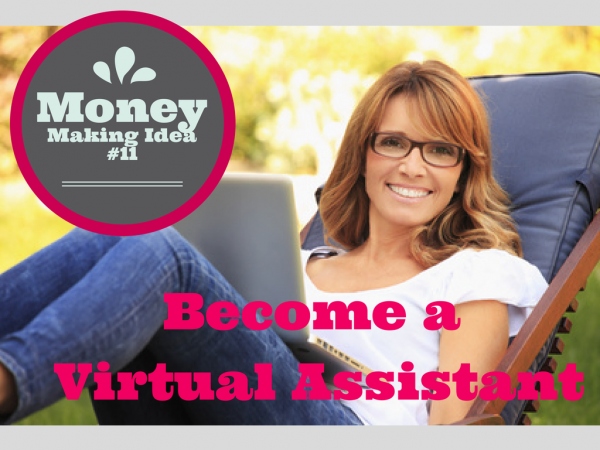 Do you need a money making idea that will let you earn extra money quickly and without a lot of startup cost? If so, then you may want to look into how to become a virtual assistant (also known as a VA).
As a virtual assistant you can help people with a variety of tasks from the comfort of your own home, or anywhere you have access to a computer and an internet connection. You can work as little or as much as you like, and your schedule is up to you.
What could be better?
In today's article I'll tell you exactly what a virtual assistant does, how to get started, and hook you up with some killer resources to get you up and running as a virtual assistant in no time.
On with the show!
What is a Virtual Assistant?
Let's start with the obvious first question: Just what is a virtual assistant? A virtual assistant (or VA for short) is someone who provides professional administrative or creative assistance from a remote location such as a home office. Some also use the term virtual professional, as it's a better description in some instances.
Some VA's are even location independent, which means they have no permanent home. Many of them travel and live in exotic locales for weeks or months at a time, and work while they enjoy the local scene wherever they are.
Virtual assistants are usually self employed, and may work exclusively for one client, or hire themselves out to many clients who need their services. Their time is their own, and can work as much or as little as they please.
What Can a Virtual Assistant Do?
There's a huge variety of services that a virtual assistant can do. Pretty much anything you can do with a computer and an internet connection is fair game. You can limit your services to one or two special services that you excel at, or you can offer a large variety of services, depending on your skillset and talents, it's completely up to you.
Here's just a partial list of the services you can offer as a virtual assistant/virtual professional:
Desktop publishing
Podcast editing
Counseling
Graphic design
Project management
Data Entry
Transcription
Social Media Management
Event Planning
Payroll
Human Resources
Software coding
Copywriting
Mobile app development
Marketing
Music production/mixing
Coaching
Consulting
Website building
Video/Audio editing
Editing
Ebook conversion services
Research
Ghostwriting
And countless others…
Rates for various services can range from $15 to over $100 per hour for some high end specialty work. You can even charge by the project instead of by the hour if you can work it out with your client.
So How Do You Get Started- Become a Virtual Assistant ?
First, I believe the best thing you should do before putting yourself out there as a virtual assistant is to be very clear with yourself about what services you want to offer to clients. It's better to stick with the core skills that you do best, then later you can spread out from there.
Don't try to be all things to all people. If you're talented at writing and editing, but not so good with video and audio, then stick with writing and editing for now until you develop other skills further.
Sites For Virtual Assistant/Virtual Professional Work
Once you figure out the core services you want to offer, then you can start offering those services through various websites designed specifically to pair you with people who need what you have to offer. Here is a list of some of those sites to get you started:
Once you decide which of these websites you'd like to use for seeking clients, it's just a matter of filling out a profile at each site with your vital info, including what type of work you're looking for.
Working as a VA is Becoming a Trend
One of the cool things about becoming a VA is that you can do as little or as much as you want. If you're a real go getter and want to work 60 hours a week, you can certainly do that. If you're a stay at home parent and would like to carve out a few hours a week to make extra money for the family, you can do that too. It's completely up to you!
Virutal assitant work is also a great job for single moms because you can set your own schedule, and work as much or as little as you like.
If you find that you really like doing virtual assistant work from home, you might even decide to leave the 9 to 5 and go full time with your VA work. More and more people are doing it every year, and it's starting to become a trend in this era where less full time work is available and jobs can be harder to find.
Want to learn more? Read "The Bootstrap VA- The Go Getter's Guide to Becoming a Virtual Assistant, Getting and Keeping Clients, and More!" by Lisa Morosky
Virtual Assisting is a Win-Win
So if you need a great side hustle to pay off debt, invest, supplement your income, or take a vacation, then virtual assistant/virtual professional work may be just what you're looking for.
It's not hard to become a virtual assistant, there's no startup cost (assuming you already have a computer and internet connection), and you can work how you want, when you want, with who you want. It's a win-win for everybody involved!
Question: Have you ever done any work as a virtual assistant or virtual professional? How did you like it? Tell me about your experience by leaving a comment.