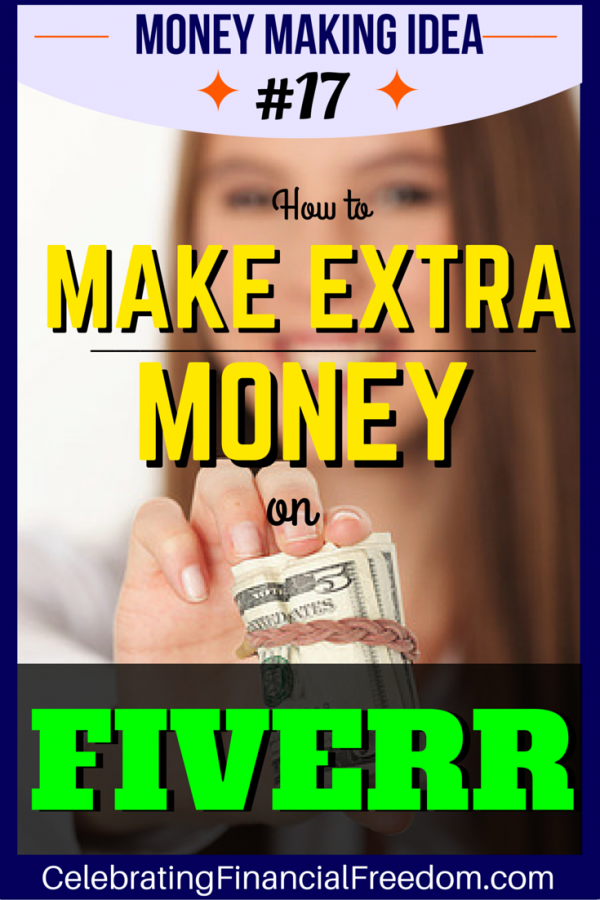 My latest money making idea is becoming more and more popular as a viable way to make extra money. Making money on Fiverr can be a quick way to make a few dollars, but you can also develop your skills on Fiverr to make lots of money!
This is the ultimate comprehensive guide on Fiverr where I'll show you:
What Fiverr is
How to sign up for Fiverr
Secrets to finding the right money making gig
How to get started making money on the site
Tips for how to achieve level 1 and level 2 seller status so you can make even more money on Fiverr
How you get paid
What is Fiverr?
Fiverr is a marketplace offering literally millions of products and services performed by people just like you. The price for each service starts at $5 and goes up from there.
So if you have any kind of talent or experience in a certain area, you may be able to sell it as a product or service on Fiverr.
A Real Life Example
According to a story on USNews.com, there are tons of people making serious extra money on Fiverr. Here's one example they wrote about:
"Mark Mason, a semi-retired publicist in Chicago, has found similar success by offering business-related services through Fiverr, including writing email auto-responders and marketing materials. "Fiverr for me was a fresh new marketplace that was bringing in buyers," he says. He quickly started earning $150 to $300 a day by working around three to four hours. That income allowed him to buy a new home in Indiana."
Wow, just think what you could do with that kind of extra money!
Fiverr Offers Millions of Services
There is a huge range of services that people sell on Fiverr, some you would never dream you could get for five dollars. Here are just a few examples of what you can find on Fiverr:
I realize $5 is not a lot of money and it seems like it may not be worth it to use Fiverr, but read on and I'll show you how to make a lot more than $5 per gig below.
But first, let's talk about how to get started.
Want more money making ideas? Check these out!
How to Get Started Making Money With Fiverr
Of course the first step to get started with Fiverr is to sign up and create an account. Once you enter your vital info, then you can start by checking out the services that other people offer.
Finding the Right Gig
When you browse around the Fiverr site for ideas, search for things you know you can do. Whether it's singing a song, editing copy, data entry, illustration, software coding, relationship advice, or anything else, you can discover how other people are doing it in a unique way and put your own twist on it.
See What Works (and What Doesn't)
Once you find a few examples in a niche that might be a good fit, study what they are doing. First off, take a look at several successful sellers to see what they offer and how they offer it. Do they use video to promote their service? Are they promising short turnaround times?
There are a lot of ways to distinguish yourself from the crowd.
You should also check out several sellers that don't have a high rating and see how their offers differ from higher rated sellers. You will start to see a pattern of what not to do when developing your offering on Fiverr.
Leave a comment about this post on our Facebook page!
Create a New Gig
Once you've done a little research, go to your account and click the start selling button to create a new gig. You will be asked to do several things:
Enter a title for your gig
Select a category to help people find your offer
Enter a picture or video that describes your offer
Enter a written description of your offer. Be as descriptive and specific as possible.
Enter appropriate tags. Tags help people find your offer when they are using search to find what they want.
Select a duration for how long it will take you to deliver the service
Configure pricing of your service offering
Upload a video description
Enter instructions for the buyer to follow
Then publish and promote your gig
Build Your Reputation on Fiverr
Once you publish your gig and start getting customers, the next step is to start building your reputation on the site. As with most online operations, the better reputation you have among your buyers, the better rating they will give you. The more good ratings you get eventually translates into more customers.
So here are a few good ways to build your reputation on Fiverr and get good ratings:
Always complete your task in a timely manner. If you say you'll be done in a certain amount of time, stick to it.
Do quality work. Of course that matters in any money making endeavor.
Be easy to deal with
Remember treat people how you would like to be treated and people will beat a path to your door.
Is Making $5 Enough?
Lets face it, five bucks is not a lot of money (at least not in any of the economically developed countries). So is it really worth it to make just five dollars per gig?
Well, it can be if you do it right.
Automated Delivery of Your Product
One way to make selling on Fiverr worth your time is to have a product that doesn't require you to perform a task every time a customer buys from you. Any product that can be automatically delivered is a good candidate.
Here are some products that might fit that description:
An ebook
A written tutorial about how to do something
A short course dealing with a particular subject
A song or collection of songs
A a pre-written short story
Any other pre-produced content that can be automatically downloaded to your customer
These kinds of products can make for a good start. But if you really want to make substantial money on Fiverr, there is another way.
How to Make More Money on Fiverr
On Fiverr, you're not limited to just making $5 per gig. However, you have to earn the right to make additional money with upsells and add-ons to your gig.
When you initially join Fiverr, you can only sell at the $5 price point until you build your reputation as a seller. However, when you prove your reputation, you can be promoted to Level 1. According to the Fiverr site the requirements for making it to Level 1 are:
"You've been active on the site for 30 days and completed at least 10 orders while maintaining excellent ratings and a great track record. You'll automatically be promoted to Level 1. At this Level, you'll gain additional features making it easier for you to offer more advanced services and generate a higher income."
Upsells and Add-ons
Once you reach Level 1, then you can start adding upsells and add-ons to your listing to generate more revenue. For instance, if you are offering a service to proofread 1,000 words of text for $5, you can add the option to format the document for your customer for $10 extra.
You could also add services such as proofreading more lengthy documents, converting the document file to a different format, rewriting the text in a more engaging style, and more. As the customer pays a fee for each add-on, turning what was a $5 gig into $40-$50-$100 gig or more depending on your rate for each additional feature.
Becoming a Level 2 Seller With Fiverr
As you progress and serve more customers successfully, you can transition up to become a Level 2 seller. According to the Fiverr website, the requirements are:
"You made over 50 orders in the past two months while maintaining excellent ratings and a solid track record."
Reaching Level 2 status allows you to charge even more for your services and offer more options, as well as gaining access to analytical tools to help you market your gigs better. Once you reach Level 2, you can start making some serious money, as much as $500 per service!
How You Get Paid on Fiverr
Each time you make a successful sale, no matter how large or small, Fiverr takes a 20% cut of each transaction. Once you have been selling for 14 days and have completed some transactions successfully, then you can withdraw money from your account through PayPal, which also takes a very small fee per transaction.
Fiverr- A Great Money Making Idea
Overall, if you need to make extra money for any reason, Fiverr can be a good way to do it. Just like any good money making idea, you will have to put in some work and use a little creativity to make it happen.
But when you're willing to put in the time and the effort you can make a significant amount of money to pay off debt, invest, pay bills, or get out of the paycheck to paycheck cycle for good.
Question: Have you ever used Fiverr as a buyer or a seller? How was your experience? Leave a comment below or on the CFF Facebook page.