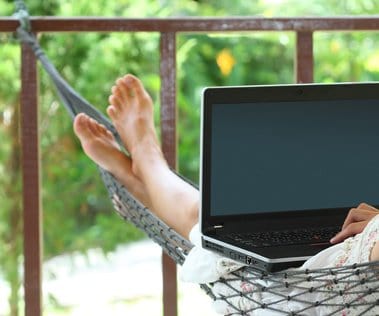 How to Make Money Freelancing
Do you need to make some extra money? Whether you need extra money to pay off debt, meet a savings goal, or just make ends meet in a tough economy, learning how to make money freelancing is a great way to increase your income while using the skills you already have.
So what is freelancing? Freelancing is simply a way of making money by using your skills outside of your traditional job.
There once was a time (in the dark days of the pre-internet and rotary phones) when it was much more difficult to make money freelancing. This is because you could only connect with so many people who knew you and needed your skills.
But in these heady days of WiFi and high speed internet you can advertise your skills to literally billions of people in the world with access to an internet connection.
It's especially easy to find freelance work if your skillset lends itself to working over the internet. That might include skills such as:
Accounting
Proofreading- Take this top-rated training course to learn how
Transcribing
Translation
MarketingIT
Software development
General office work
Interior design
and many more…
You can even become a virtual assistant (find out more about that here)
Sites For Freelancing Gigs
All you have to do is fill out a profile on sites such as Elance, Guru, or Freelancer, among others, and start bidding on the jobs that are available.
Clients can also find you by searching for specific skills you have listed in your profile and looking at projects you have completed for others. These sites also have great tools for tracking the progress of your projects, and guaranteed payment once the project is complete.
As you complete each job, your clients will rate your work. Obviously, the better job you do the better reputation you build for yourself, thus getting more work.
However, if your skill set is one that lends itself more to a local service area such as a plumber, electrician, general maintenance, landscaping, child care, auto repair, etc., you can still hire out your skills using sites such as Craigslist.
Craigslist has Jobs and Gigs sections where you can advertise your unique skills to anyone in your local area needing your particular skills. Of course the listing is free. If you make the effort to differentiate yourself from your competition by listing qualifications, photos from completed jobs, references, and testimonials, you can easily make a steady side income to use for debt reduction, savings or other financial goals you have.
The World is Your Customer
I've said it before and I'll say it again- I am thoroughly convinced there has never been a better time in the history of the world to find ways to make money. When you can hire yourself out to literally anyone else in the world it becomes so much easier to make that extra income you've been looking for. I didn't say it will be easy. It will take some work to get started by filling out profiles and finding projects, but it's still much easier than it once was.
So get out there and hustle, you might be surprised at just how much extra money you can make!
Question: Do you have any suggestions for making money with freelance work? Leave a comment and let me know