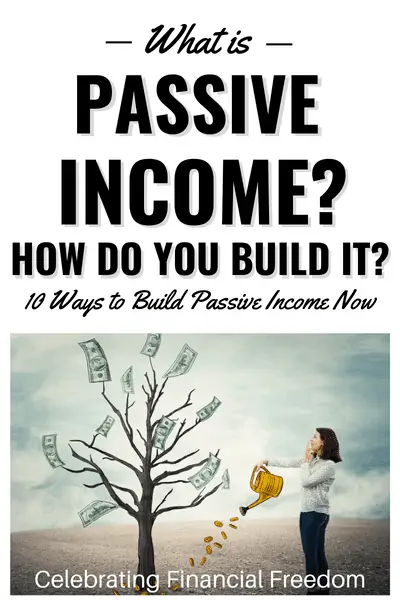 Have you ever dreamt of making money without working? Wouldn't it be awesome to get a paycheck every month without having to lift a finger? Well, this could be your future life if you play your cards right! It's called passive income.
What is Passive Income?
Passive income is a wonderful way to earn money consistently while putting in little to no physical effort to get it. Although passive income does take some effort to get started on the front end, it takes little effort to maintain once you get it established.
People like to describe passive income in a lot of different ways. Some call it mailbox money because it shows up in your mailbox every month without fail. Others like to call it making money while you sleep.
Benefits of Earning Passive Income
Whatever term you like to use, there are a ton of benefits to earning passive income:
Extra money to put into investments
You can replace your 9-5 income and work less
Earn more money with less stress
You can retire earlier
Income protection- make money even if you lose your 9-5 job
Another source of income during retirement
Money for extras/luxuries you otherwise can't afford
More money to be outrageously generous
Keep in mind, your greatest wealth building tool is your income. The less physical work you need to do to earn that income, the better. The great thing is that over time you can build multiple streams of passive income that continue to produce year in and year out with little to no maintenance.
In fact, building multiple streams of income is a biblical principle too. The more income streams you have, the better protected you are financially. "Invest in seven ventures, yes, in eight; you do not know what disaster may come upon the land."- Ecclesiastes 11:2
How Much Passive Income Can I Make?
Strangely enough, passive income typically takes some hard work on the front end. It can be slow going in the beginning. Creating passive income is definitely not a way to get rich quick. But if you can build even a few small income streams over time, it really adds up!
You can earn anywhere from a few dollars a month up to six figures. It all depends on how diligent you are and what options you choose.
How Can I Build Passive Income?
There are tons of ways to create passive income. Too many to name, really. Below I'll list some different options that many people use, and you can take it from there. However, what you do and how you do it is limited only by your imagination. So get creative and make some money! Here are a few of the best ways I know for building passive income:
Dividend paying stocks and mutual funds
Invest in rental real estate
Wrap your car in advertising
Rent out your home
Become an author/sell books
Rent out your car
Sell digital products (Online courses, ebooks, etc.)
Below, I'll talk a little about each method of passive income and score it according to how passive it really is.
A score of 1 is not passive at all (takes a lot of work to maintain). A score of 10 means there is almost no work needed to maintain.
Dividend Paying Stocks and Mutual Funds
Investing in company stock and/or mutual funds that pay a dividend is one of the most tried and true ways to earn passive income. You simply open a brokerage account, invest your money in dividend paying stocks or mutual funds, and get a payout, usually once a quarter. Getting a consistent payout this way is about as passive as it gets!
You can also automatically reinvest the dividends to buy more shares. You won't have liquid access to those dividends if you go that route. But you will build your investment exponentially over time if you reinvest the dividends.
Passive Income Score: 10
Invest in Real Estate
There are a number of ways to invest in real estate. Some are relatively passive, and others, not passive at all. However, keep in mind it's best to buy real estate with cash to minimize risk. We believe in debt freedom around here. Never, ever go into debt to buy a rental property! So, if you're not there yet, you should look into other types of passive income and worry about real estate later. Let's dive into some of the more popular ways to invest in rental real estate.
Rental Properties
In most cases, owning a rental property is not as passive as you might think. If you manage the property yourself, it can be a real hassle. When the toilet leaks, you get a call. When the oven stops working, you get a call, etc. Then you have to handle all the details of how each problem gets solved. Couple that with collecting rent, along with cleaning, updating, and finding new tenants when the old ones move out, it takes a lot of work.
Passive Income Score: 5
Managed Rental Properties
However, if you have a property manager to handle all the hassles for you, rental properties can be much more passive. For instance, I hired a property manager when I bought my rental property several years ago. During that time I've had to field maybe 2-3 phone calls/emails a year to be informed of issues as they come up. She handles all the details and I write a check once repairs are done- easy peasy!
Passive Income Score: 8.5
Vacation Rentals
You can make a ton of money renting out a vacation property. But keep in mind that it can be a nightmare too. What if the tenants have a wild party and trash the place? Are you going to maintain the property and renters yourself, or hire management? Who will clean up after each stay? Will a hurricane destroy your property? It's not always as glamorous as imagined, nor is it as passive as most make it out to be.
Passive Income Score: 5
Wrap Your Car in Advertising
Ever seen those vehicles cruising around town wrapped in advertising? They aren't always driven by business owners promoting their own business. Some people actually get paid to have their vehicle wrapped in advertising and go about their normal daily driving habits. Depending on the advertiser, your driving habits, and where you live, you can get a check for several hundred dollars a month in truly passive income just for driving your car!
It's a little more difficult to be chosen if you drive less than 800 miles per month and don't live in a heavily populated area. But it may be worth a few minutes of your time to fill out the signup forms on a few different websites to see if you qualify. Just do a Google search for "auto wrap advertising".
Passive Income Score: 10
Rent Out Your Home
If you can't afford to buy rental property, then renting out your home (or part of it) is a good strategy. Whether you rent out the entire home or just a bedroom or two, it's a great way to make money to help pay your mortgage.
Of course, if you rent out the entire house, you'll need an alternate place to stay. If you rent out a room or two, you'll have to give up some privacy. You will also need to prepare for guests to arrive, and clean up after they leave. You'll also need to manage the bookings via email through AirBnb, HomeAway, or whatever booking services you use.
Passive Income Score: 3
Store Stuff for Other People
Got an extra room, an outbuilding, or some space in the garage? Those are great places to store other people's stuff for a fee!. If you have a larger space such as a carport, garage, or barn, those are also good for storing cars, jet skis, boats, RVs and other large items people can't store on their own. It's easy to do, and you just need to make sure the items stay safe while they are in storage.
Websites like iStoreit, Store At My House, Neighbor, and others can get you connected to people needing storage.
Although you may not make a lot of money (unless you have a lot of space to rent), it's steady income that requires almost no work to maintain. But a little steady income can really add up over time, especially if you invest the money.
Passive Income Score: 8.5
Rent Out Equipment
Another great passive income idea involves renting out equipment or other useful items. Rent out anything from a truck or trailer to your backyard swimming pool for people to use while you make bank! Other items you can rent out include:
Lawn mowers
Power tools
Pressure washers
Other home maintenance equipment (aerators, weed trimmers, ladders, etc.)
Vehicles (trucks, cars, trailers, RVs, boats)
Sports gear
Camping gear
You can start by taking pictures of the item and posting them for rent on social media sites like Facebook marketplace, Craigslist, or popular rental sites like Fat Llama and Sparetoolz.
You should set up some rules for how your items will be used to prevent any problems. Even better, you should have each renter sign a liability disclaimer for a higher level of protection on your part.
Although renting is not completely passive (you have to manage the listings), you can still make a nice side income to spend or invest.
Passive Income Score: 5
Create Content (YouTube, TikTok, Blog, Books, Courses)
You can make great money creating content, but it's not always as passive as some people would have you believe. Content creation takes plenty of time and effort, but can pay off big time in the long run.
Books and Courses
If you are a creative type, then creating books or courses might be a good passive income strategy for you. Writing books and creating courses can take a ton of time on the front end. But once you finish and put your product up for sale, the income can be extremely passive!
Once your content is ready to publish, just upload them to appropriate sites to host them and start making money! You'll need to do a little marketing to juice sales, but this can be automated as well.
Amazon KDP is by far the most popular place to sell ebooks. As for courses, there are several sites such as Teachable, Udemy, and Kajabi, among others.
Passive Income Score: 6
Blogging and YouTube
Creating great content that appeals to a specific audience is a good way to create a nice passive income. Your content should be engaging and useful while attracting as much traffic as possible.
Once you get a good amount of daily traffic, you can sell ads on your blog or YouTube channel and start making money! You can also sell your own products (courses, ebooks, downloads, etc.) directly to make even more passive income.
This type of passive income typically takes more work than others. It's definitely not the most passive strategy out there. You'll need to do a lot of work in the beginning. Then, over time you'll need to update your content to keep it fresh and relevant for your fans and the search engines.
Passive Income Score: 3
Tips for Creating Passive Income
Of course, there are a ton of passive income ideas you can try. In your quest to find the passive income strategy that works for you, it's a good idea to ask the right questions to find the right one:
Are other people making money doing this?
Which passive income strategy suits my strengths?
Does this idea show a positive long-term track record?
What are the risks involved with my chosen strategy?
Could I potentially lose money if things go wrong?
How much time and money will I need to invest to get started?
How much time is involved in maintaining this strategy?
Remember, many strategies that people say are passive really are not passive at all. Businesses like car washes, laundromats, vending machines, etc. are promoted as being passive, but actually take a lot of work to maintain.
Look for strategies that have a good track record, and take minimal investments of time and money. And of course, never go into debt to get started!
Building Wealth One Income Stream at a Time
The average millionaire has 7 different streams of income. Building different streams of passive income can really pay off in the long run to build wealth and keep you financially solvent if another stream dries up. Keeping your income as diversified as possible is an extremely wise strategy that pays off tremendously in the long run. You'll build more wealth, have less financial risk, and change your family tree!