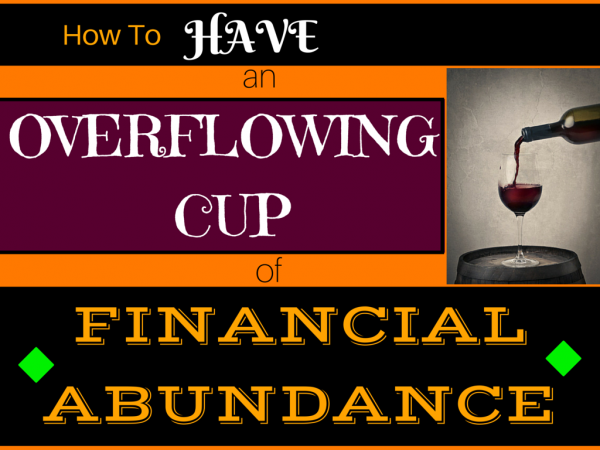 As you probably know, I like to talk a lot about financial abundance on this blog. I believe a proper view of wealth and how it should be used is a massively important part of the Christian walk.
But so many of us are confused on the subject.
There are plenty of different viewpoints available. They range from solid biblical teaching to seriously flawed interpretations about wealth and giving that have lead a lot of people astray in the area of finances.
Today I want to shed a little light on work, wealth, and giving by telling you about a special ceremony that is essential to the Jewish Sabbath.
It's called Havdalah.
It's a ceremony that demonstrates a very important lesson we should all be keenly aware of when we think about money and how it should be used, especially by people of faith.
The Havdalah Ceremony
As the Jewish Sabbath ends on Saturday night, Jewish families prepare for the work week ahead by performing the Havdalah service. The word Havdalah means "separation". It's a ceremony that divides the Sabbath from the work week ahead and asks God to increase the family's offspring and their financial abundance.
One part of the Havdalah Is recited over a cup of wine that is full to overflowing and runs down into a saucer beneath the cup.
This overflowing cup symbolizes the intent to produce enough for you and your family in the week ahead, as well as an excess that can be used for the benefit of others who may need it.
What Does Havdalah Symbolize
The purpose of the Havdalah is to bless the work week ahead and reinforce the proper view of the wealth and generosity that your hard work makes possible.
Jewish teaching establishes that your own needs should be your primary concern, but not the only concern. Because of how God made you, caring for your own needs is necessary to survive, but insufficient to thrive. Therefore, helping provide for the needs of others is next on the list. It's an extremely important part of living a good, fulfilling life.
Filling the cup full is a reminder of the obligation to provide enough for yourself and your own family first. Overflowing the cup into the saucer reminds you to continue filling your cup even after it's full, so the financial abundance may provide for others in need.
This part of the Havdalah ceremony is a reminder that it's not all about you. It helps you keep in mind that there are other people in this world who are in need, and it's your obligation as a person of faith to help fulfill their needs after you have taken care of your own.
The Size of Your Cup
Most people have no problem with the idea that you should take care of your own household as well as the needs of others. But modern thinking has been skewed by a lot of bad teaching on just how big your cup should be.
Many Christians believe that anything you have above your basic needs of food, shelter, clothing, and such is too much. They believe your cup should be small so you live poorly, deny your own needs, and give everything else away.
That's a bit extreme.
A Large Cup of Financial Abundance
Others have the mentality of a large cup, which means a lot of wants have turned into needs. So many people live with the large cup mentality that they spend all their money and resources on themselves (living paycheck to paycheck), and there is nothing left for the overflow to happen. That's on the extreme end also, and leaves no room for God's blessings that Havdalah provides.
Ultimately, the size of your cup is between you and God. He does want you to have financial abundance and to use it properly. He also wants you to enjoy the fruits of your labor instead of living a lifestyle of deprivation and lack because you've given so much. Your job is to prayerfully decide how big your cup should be, and make sure there is sufficient overflow to serve others and leave a financial legacy that long outlives you.
How to Create Overflow in Your Own Life
If you want to have financial overflow that God wants for you, then you have to be intentional about it.
You have to work to make money.
You have to earn enough and manage it well enough to ensure an excess.
Then you have to give of that excess, so that you and others will be blessed by your giving.
When you practice the principle of Havdalah, you're exercising God's plan for you. Because of how God made you, you don't function to your fullest capacity by keeping money to yourself. When you keep it all for yourself, you are the definition of self-centered.
But when you invest in producing an overflow and share it with others, God smiles on that. He starts releasing your fullest potential so you can do more of the same. The result is that He makes sure you have more to fill your cup, and more overflow to share.
Question: What are you doing to produce overflow in your life? Leave a comment and let me know.
I learned about the Havdalah through books by Dave Ramsey and Rabbi Daniel Lapin. You can check those books out at the links below:
Thou Shall Prosper: Ten Commandments for Making Money- Rabbi Daniel Lapin
The Legacy Journey- Dave Ramsey
More posts on Faith and Finances:
Ten Commandments for Making Money- Learn from the Jewish People About Money and Business
Does God Want You to be Rich? The Wealth and Christianity Debate
4 Habits to Create True Wealth and Financial Independence