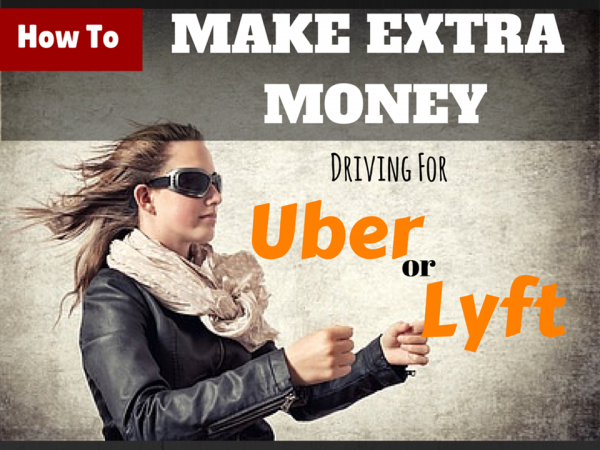 Have you ever heard of ridesharing? It's a concept that's been around for just a few years but is gaining more popularity due to stiff competition between the two top ridesharing companies, Lyft and Uber. I think it's a great way to earn some extra money when you need it, especially on short notice.
What is Ridesharing?
Ridesharing is defined by Wikipedia as a service that arranges one time shared rides on very short notice. Some of the main differences between ride sharing and using a taxi cab are:
There are no surprises. The customer schedules the pickup after the cost of the ride is confirmed.
Many times it's cheaper because taxis are very expensive to run profitably.
Ride sharing services are cashless, so your passengers can use a credit or debit card to pay. Many taxis don't do that.
Ever had a rude taxi driver? With a ride share service like Uber or Lyft, drivers and passengers rate each other. Therefore trust is built and there is a good incentive to provide excellent customer service. That doesn't happen when you use a taxi.
How Do Lyft and Uber Work?
Once you've signed up with Uber or Lyft as a driver, all you have to do is download their app to your smart phone, switch into driver mode so they know that you're available to drive a passenger, and wait for a request to come in.
A passenger enters their pickup location into the app. Next, the app alerts the customer that their ride is confirmed once you (the driver) accept the assignment. The passenger is provided with your name, license plate number, and estimated time of pickup.
Once you deliver the passenger to their destination, their card is automatically charged and you go on your merry way to your next customer.
You can download the Uber app here and the Lyft app here.
Advantages to Driving For Uber or Lyft
There are several advantages to being a driver for a ride sharing service such as Uber or Lyft, and these are what have attracted so many people to join up as a driver. Here's a list of some of the best things about driving for a ride sharing company:
You Set Your Own Schedule- You can work as much or as little as you want. There are no requirements as to how many hours you have to work. You can make yourself available to drive anytime you please.
You Can Make Pretty Good Money- Depending on how much you work, and when you work, you can make a significant amount of money. More about that below.
It's Easy- Driving a car is obviously not manual labor, and not mentally taxing (most of the time).
A Low Barrier of Entry- You don't have to have a college degree or years of experience. You don't even have to know someone to get the job. All you need are a driver's license and insurance, be at least 21 years old, have a good driving record, and a midsize or full size 4 door car in excellent condition.
Be Your Own Boss- You'll never have a boss breathing down your neck telling you what to do or how to do it. Your success will be completely up to you.
How Much Can You Make as a Rideshare Driver?
You can make pretty good money when you drive for Uber or Lyft. The pricing is based on demand, so the more demand there is compared to drivers available, the prices go up. That means that how much you make as a driver also increases. So if you want to make more money, you can choose to drive at times that tend to have peak pricing, such as weekends, holidays, or when there is a big event in town.
It can vary greatly according to demand, but from what I've seen there seems to be a minimum of around $20 per hour. However, many of the articles I've read on the subject show that you can make as much as $60-$70 or more per hour on some rides.
Also, one good aspect that many people don't think about is writing off mileage on your taxes. That adds to 56.5 cents per mile!
Downsides
There are some downsides to being a ride share driver that you should consider:
There will be more wear and tear on your car.
You have to pay for gas, insurance, tolls, etc. out of your earnings.
Potential safety issues, especially for female drivers.
The companies set the fees, so they can go down any time if one company wants to undercut the other. This means you'll make less money as a driver.
A Simple Way to Make Extra Money
If you want to make a full time living driving for Uber or Lyft, it's probably not that easy. However, it can be an excellent way to supplement your living or to make extra money in your spare time so you can pay off debt, invest, make money for college, or whatever you need some extra money for.
It's a money making idea that you can literally do on the spur of the moment when you have a little down time. You can make several hundred dollars a month driving people around town instead of sitting around waiting on your kids to get done with dance class or after school activities. You could even drive a passenger or two a night after the kids go to bed and someone stays home with them.
Overall, It's probably the easiest way to make extra money that I've seen. It's simple, easy, and you can do it anytime you want!
Question: Have you ever used Uber or Lyft as a driver or a passenger? Leave a comment and tell me about your experience.
25 Best Side Hustles for Teachers to Make Extra Money