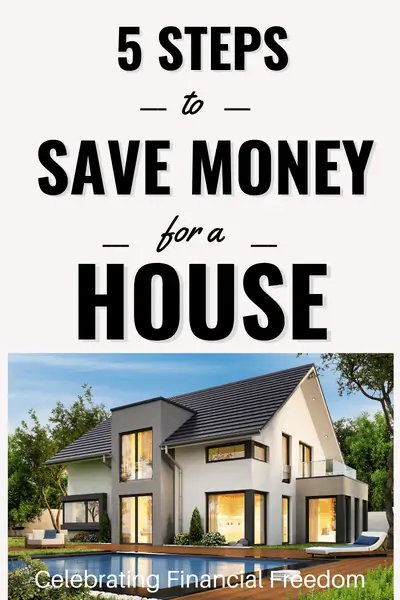 Housing prices have gotten out of control! Even if you're not in an expensive city, it's not easy to save for a down payment on a house. But don't worry, it's not impossible. You'll need to follow a smart game plan and be diligent about it. But when you do the right things, most anyone can come up with a down payment for their dream home.
Should You Pay off Debt or Save for a Down Payment First?
It's a common question. Anytime you have debt, the best thing you can do is get it completely paid off before you start saving for a down payment on a house. Yes, it sounds like a tall task, but paying off all debt puts you in a much better position to become a homeowner without spending your entire monthly income on massive debt payments.
Once your debts are paid, the next wise step is to save up an emergency fund of 3-6 months of expenses. It'll be easy to do once you have no debt payments! The goal is to make sure if you have an emergency such as a leaky roof or needing to replace your HVAC unit, you'll have the money available, not having to go back into debt to pay for it.
If you do these steps in order, you will be able to pay off your house as quickly as possible with no risk of falling behind on payments due to a huge pile of debt. It's not necessarily quick and easy, but it's by far the best way to reduce financial stress and build wealth over your lifetime.
5 Steps to Save Money for a House
Any time you have a difficult task ahead, it's always a good idea to divide it into small, achievable chunks to make achieving your goal easier. And saving up for a down payment is no different.
When you look at needing to save tens of thousands of dollars for a down payment, it feels like a huge mountain that you'll never be able to climb. It will take time and dedication to get there, just keep in mind that yes, you can get the job done. Breaking it down into the 5 achievable steps below will help you stay motivated during the process.
5 Steps to Saving Money for a House
Step 1: Set a Specific Goal for Your Down Payment
Ideally, you would want to save up and pay cash for your house. But let's face it, most people can't do that. The next best thing is to have as high a down payment as possible.
The first thing you should do is to figure out how much house you can afford.
How much can I spend on a house? There are plenty of factors to consider, but the general rule of thumb is that you should keep your mortgage payment 25% of your monthly take home pay on a 15-year fixed mortgage. Spending more than this tends to make your budget much tighter in other areas. If you live in an extremely expensive area (LA, Silicon Valley, New York City, etc.) then you should keep your payment below 30% of monthly income. Also, make sure to stay away from low down payment loans such as VA, FHA, and USDA loans. They seem extremely attractive, but are a bad deal overall.
How much should my down payment be? When saving money for a house, the larger the down payment the better. Ideally, you should put down at least 20%. Anything less and you'll be forced to pay PMI (Private Mortgage Insurance). PMI usually amounts to a few hundred dollars a month. It protects the mortgage company in case you default on the loan. It's a complete waste of money that protects the bank and drains your wallet.
How long will it take me to save money for my down payment? You'll need to figure out how much you need to save every month to achieve your down payment savings goal. Try to set a time limit for your goal. How long it takes depends on how far out you set your goal, and how aggressive you are with saving. It's best to set a down payment savings goal of around 2 years or so, as you don't want to sacrifice retirement saving and other financial goals for too long.
Should I invest my down payment money? When you save money for a house, it's best to keep your money liquid. What does that mean? It means you should be able to have fairly easy access to the money. It's not wise to invest your down payment money unless your savings goal is more than 5 years away. Any less than that, and you can end up losing a portion of your money due to the yearly ups and downs of the market. Just put it your money into a savings account and let it pile up over time.
Step 2: Tighten up Your Budget
You'll need to cut down on spending to be more aggressive at saving money for a house. The more you can save toward your goal every month, the faster you can achieve it! It's only temporary though, you won't have to cut back spending forever.
The best tool to get the job done is a solid, forward-looking budget. When you make a plan for every dollar before you spend it, you'll discover that you have more money than you thought to save for your down payment!
It's Only Temporary
When you have complete control over your cash flow using a budget, you can easily identify areas to cut back on spending. Don't worry, you'll only have to sacrifice temporarily until you finish saving money for your down payment. Here are a few things you can cut down on or eliminate while saving money for a house:
Eating out- save $200-$300/month
Store bought coffee (make it at home)- $50-$100/month
Ditch your gym membership (work out at home)- $50/month
Clothing purchases- $100/month
Buy groceries at a more budget friendly store (think Aldi) $50-$100/month
Just these tips alone can save you hundreds of dollars every month! Over a couple of years, that adds up to thousands to help you save money for a house.
Step 3: Temporarily Stop Contributing to Retirement Plans
As you save money for a down payment, you should make that your primary financial goal. If you are contributing any funds to retirement plans, put that on pause temporarily to more quickly meet your goal of saving money for a house. Of course, you should only pause retirement savings for as short a time as possible.
Once you get into your new house, go back to saving for retirement as quickly as possible. No procrastination! If you're not diligent, it's easy to let 5-10 years go by and discover that you're way behind on retirement savings.
Also, NEVER borrow or take money out of retirement plans to make a down payment on a house. You'll get hit with taxes and penalties that are just not worth it. Plus, you'll lose the long-term growth on that money. Here's a great post that will explain just how terrible a strategy this is.
Step 4: Find Ways to Increase Your Income
Increasing your income adds jet fuel to your goal of saving money for a house. There are a ton of ways to earn a few hundred to a few thousand extra dollars a month.
Maybe you can get a few extra hours at work. Or, find a good side hustle you can work on a few hours per week. Here are a few ideas you can use:
These are just a few things you can do to earn some extra money to save for a house. Think about it, if you can earn just $150/week extra, that's $600/month! Over a couple of years, that adds up to $14,400 for your down payment in addition to what you're saving from your regular income.
Step 5: Reduce Your Expenses
Yep, this is the toughest one of all. But hey, if you want to save money for a house as quickly as possible, you may have to make some sacrifices! Don't worry though, you won't have to do it forever.
To cut your expenses effectively, it's a good idea to be consistently doing a written budget. When you make a commonsense plan for how to spend your money every month, you will usually discover where money is being wasted. In most cases, this adds up to a few hundred dollars a month you can save toward a down payment on a house.
Of course, there are plenty of other ways you can reduce your expenses:
Eat at home- Restaurant food costs at least 4x what you can make it for at home. Having it delivered costs even more!
Pause retirement investing- It's only a temporary measure, but it can add up quickly. Just make sure to resume investing once you get into your house.
Don't take a vacation- How intense do you want to be? Yep, skipping your vacation sucks. But in the long run it will get you thousands of dollars closer to your ultimate goal.
When you combine these ideas with all the others presented above, you'll be surprised at how much faster you can save money for a house. It's all about getting organized and sticking to a plan.
Don't Forget to Factor in These Costs When Saving for a Down Payment
Keep in mind that you need to save for more than just a down payment. There are several other costs that add to the total expense when it comes time to purchase.
Moving expenses- If you have friends that will help you move for free, that's great! The more likely scenario is that you'll have to pay a mover to get your stuff to your new home. Depending on how much stuff you have and the distance of the move, this will cost a few hundred to a few thousand dollars.
Closing costs- In some instances, a seller will cover your closing costs to sweeten the deal. But be prepared to pay just in case. Typical closing costs run about 3-4% of the total cost of the house. This covers things like appraisal fees, credit reports, underwriting fees, loan origination fees, and title fees.
Saving for a House is Worth it
If you do these steps in order, it will likely take you awhile to save for a down payment. It's not always easy to use these smart tactics, but when you do, you will have less financial risk and stress in your life. You'll build wealth much faster. And later, while your friends still have decades left on their mortgage, you'll be sitting pretty with a paid for house!