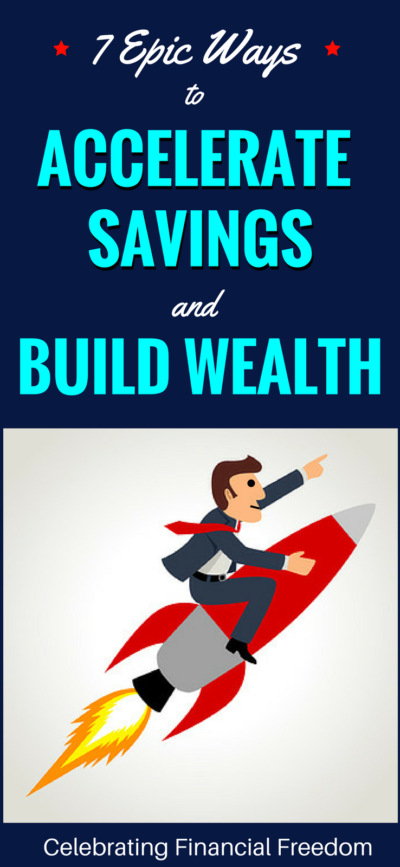 Most Americans are saving very little money, if any at all. I know my savings was hit hard during the Great Recession a few years ago. During that time, my income was cut almost in half due to several factors. On top of that, we were also paying cash for my wife's bachelor's and master's degrees.
Things got pretty tight there for a while.
Saving money was not easy, but we did manage to save a little periodically even though we were under the gun financially. Now my income is more than double what it was then, and Angie has a good job in her career field as a teacher.
Our savings are accelerating!
But even with the increase in our income, we still need to be diligent and disciplined so we don't spend everything we make. We have to be sure to do the right things to build our savings for the future.
The same goes for you.
Even if you have a small income, you can still save money in most cases. You just have to be diligent about accelerating your savings, have the right mindset, and manage your finances well so you can save as much as you can.
7 Epic Ways to Accelerate Your Savings
Some of these tips are simple, and some require a little discipline. However, all of them will work well to accelerate your savings when you choose to use them.
Find Ways to Make Extra Money
I've always been a huge advocate of finding ways to make extra money. It's a great way to increase your savings as well as pay off debt faster if you need to.
There are a ton of ways to make extra money. I won't go into great detail about the many different side hustles you can do, but I've written an entire series of articles on making extra money that you can find at the link below to give you some ideas.
The CFF Money Making Ideas Page
Automatic Deposits
Having a percentage of your paycheck automatically deposited into a savings or investment account is an awesome way to save money. The great thing about an automatic deposit is that you only have to set it once and forget it.
When you save automatically, it keeps you from having to maintain the habit of manually move money between accounts every month. When saving is done automatically you don't have to think about it, it just happens. Thus your savings will accelerate and build wealth over time without any effort from you other than setting up the auto deposit one time.
Acorns
Acorns is a smartphone app that allows you to save your spare change and automatically deposit it into an investment account. Just like automatic deposits, it makes saving and investing effortless.
The Acorns home page describes it as "a virtual piggybank that puts your nickels and dimes to work". It allows you to invest small amounts of money from everyday purchases by rounding up each purchase amount to the next dollar. You can do it automatically or on-demand. For instance, if you spend $10.49 on lunch today, then Acorns will round up the total to $11.00 and send the remaining $.51 to an investment account that is invested into a low cost ETF of your choosing.
Your spare change can grow into serious cash over the years, as the average Acorn user typically deposits $30 to $180 worth of spare change directly into their account every month.
Here's a more detailed description of how Acorn works.
Do a Fiscal Fast
What is a Fiscal Fast? It simply means that you spend as little as you can for a certain period of time (a week, month, or even a year). You will spend money only on the necessities you need to live on, and no extras for that period of time.
Once you finish the specified period of time for your Fiscal Fast, sit down and figure out how much you saved by not going out to eat, making your own coffee, taking unnecessary trips in the car, etc. Then deposit the money you saved into your savings or investment account.
Here's a great article by Shannyn Allan that will show you everything you need to know about how to do a fiscal fast.
How to Do a Fiscal Fast (aka 30 Day No Spend Challenge)
Put Your Pay Raise in the Bank
Pay raises may not come often, but don't think you should increase your lifestyle every time you get one. Next time you get a pay raise, have the difference automatically deposited to your savings or investment account.
Lower Your Fixed Expenses
Everybody has fixed expenses such as cable bills, phone bills, insurance, rent, groceries, etc. Find ways to reduce your bills and start putting the difference into savings (automatically, of course!).
You could:
Reduce your cable bill by getting rid of it and using NetFlix, Amazon, and other services.
Drop your landline and go cellphone only.
Compare your insurance rates and find a cheaper alternative.
Find a cheaper place to rent.
Use coupons when buying groceries. The Wal-Mart Savings Catcher app can help too.
Refinance your mortgage to a lower rate.
And plenty of others…
Get Out of Debt
I've said it a million times and I'll say it again. Getting out of debt is the best thing you can possibly do to accelerate your savings and eventually build a large pile of wealth. When you can use the money you once paid toward a pile of debt to save and invest in your future, your savings will accelerate quickly.
You will wonder how your savings can multiply so fast once you get out of debt. But when you don't have those extra bills dragging you down, saving money is easy!
Accelerate Savings and Build Wealth
Using these tips (and any others you find helpful) to accelerate your savings is the best way to ensure that you are building wealth for the future.
Too many people never take the time to save as much as they should. The result is too many people with too much debt, not saving nearly enough to one day have financial freedom. But you can be different if you choose to take a few simple steps like the ones outlined above.
You certainly won't build indpendent wealth overnight. But one day you will if you keep it up!
Happy Saving!
Question: Do you have any other resources or tips to accelerate your savings? Leave a comment and tell me your favorite.