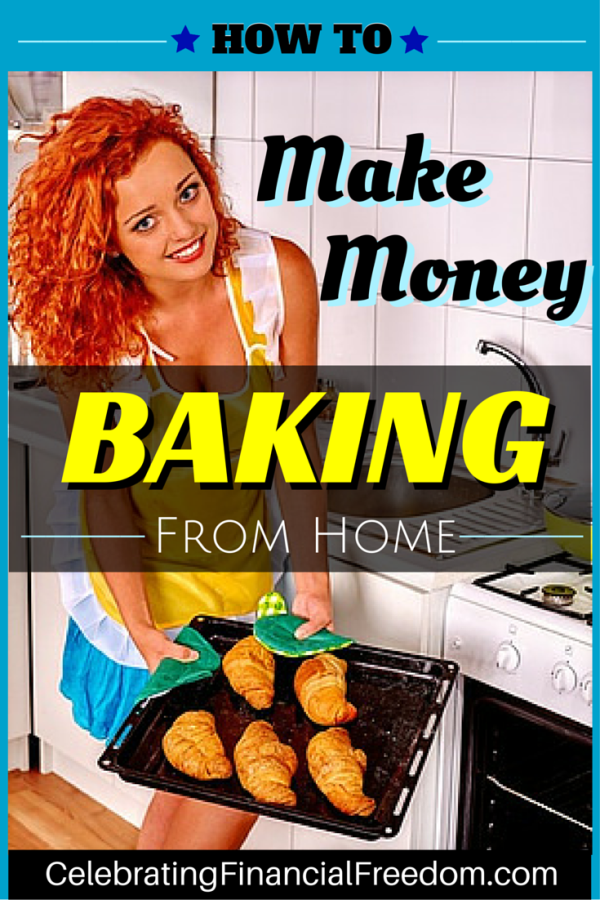 My latest money making idea was inspired by all the baking shows that are so popular on TV these days. I got the inspiration from seeing so many people on these shows who love to bake delicious treats in their spare time, and how they make people so happy with their creations.
Think about it, how many times have you heard of someone making money baking pies, cakes, and other treats in their own home. You've probably known at least one person who has made extra money this way and maybe even turned it into a full time business.
You Could Build a Full Time Business!
There are even people who grow their business enough to make millions of dollars a year making people happy with their tasty baked goods!
If you've ever watched the show "Shark Tank" you know what I'm talking about. There have been quite a few people on that show that are making a lot of money baking awesome sweet treats for their customers. You could be one of those people soon if you want to take it to that level!
The sky's the limit!
How to Make Money Baking From Home
In this post I'll show you how to make money at home baking sweet treats, what you'll need to get started, ideas for what to bake, plus how to market and grow your very own baking business from a side hustle to a full-time business.
Let's get started…
What You'll Need to Start Your Baking Business
It doesn't take a lot of money or equipment to start your own baking business. Most of the items you'll need are things you probably already have access to. Here's a short list:
A working oven
A Mixer
Mixing Bowls, Pans, and Utensils
Recipes
Ingredients for what you plan to make
Knowledge of Local and State Laws pertaining to making and selling food (don't worry, in most cases it's easy. I'll show you a great resource below)
Equipment Needed
Most everybody has a working oven, bowls, pans, and utensils needed to mix and bake with. You may not have a mixer though, so you may have to invest in one.
You don't have to buy anything fancy, just a small, cheap hand mixer will do when you're starting out. As you make money in your baking business you can invest in better equipment later.
Below I've included links to some basic baking equipment for purchase that might be helpful if you don't have everything you need.
Recipes
Your recipes are the cornerstone of your business, so make sure you have some good ones. Are you known for your pies, cakes, or a special dessert? How about loaf of bread? Most families have at least a few good recipes that have been handed down that are family favorites. Those are always a great place to start!
You can also find great recipes on websites such as Pinterest, just be sure that you don't steal recipes from someone else. Your best bet is to find a good recipe as a starting point and put your own twist on it.
Know Your State and Local Cottage Food Laws
Be sure it's legal in your state to sell home-baked goods. These laws are called cottage food laws, and they can vary widely by state.
You may have to apply for a permit or license to have your own baking business, but the fees are a small price to pay for the potential profit that can be made!
Here is a handy page that shows cottage food law requirements by state.
What to Bake
So there is the inevitable question of what to bake that will thrill your customers and make money for your baking business.
The best place to start is with any item that you may be known for that people love. So if you already have a reputation for making a great cheesecake, delicious cupcakes, or beautiful specialty cakes, that's a great place to start!
It's a good idea to limit yourself to just a few items when you're getting started. That way you don't get overwhelmed trying to do too many things.
Once you get established selling items you're known for, then you can expand to other items that customers may ask for or that you think your customers would like.
Read All My Money Making Ideas Articles Here
How Much to Charge for Your Baked Goods
Of course, the whole purpose of starting a business selling baked goods is to make a profit, so you have to make sure to price your products properly.
Baker Tamara Boatman of The Lemon Tree Cottage Bakery says in this article that you should be careful not to undercharge for your baked creations. She suggests you should charge three times the cost of your ingredients and packaging combined.
Here's how it breaks down:
On third covers the cost of ingredients and packaging
1/3 covers miscellaneous costs (electricity, water, transportation, and general business expenses)
1/3 is profit
Be Confident in Your Prices
Once you determine your price using the formula above, you may think the price is too high and nobody will pay that much for your creations.
You're wrong.
Sure, not everybody will be willing to pay the prices, but many will. If customers balk at the price, you may have to remind them that you are making custom baked goods that are expensive to make and require plenty of time and attention.
Plus, you have to ensure that you actually make money on the deal. Nobody stays in business very long if they don't make a profit.
Besides, you're saving them a lot of time they don't have to spend making it themselves. Their time is valuable!
What if You Lower Your Prices?
Lowering prices is almost never a good idea. Trying to get more orders by lowering prices causes you to work harder and make less money in the process. That's a recipe for burnout and financial problems that could ruin your business permanently.
How to Market Your Home Baked Goods Business
Like I said above, the purpose of starting a baking business is to make money. Of course, the best way to grow your cottage bakery business and start making more money is to market yourself and your products as efficiently as possible.
Here are a few marketing tips you can use…
Market Your Items on Facebook
Unlike most other social media platforms, Facebook is an especially good marketing vehicle for a bakery business. The great thing about marketing your bakery items on Facebook is that your friends are already there and it's likely they already know what you're doing.
You can reach literally hundreds (or thousands!) of people instantly who already know you and are willing to share your unique baked creations with their friends.
Be sure to have great photos and beautiful descriptions that entice people to buy your delicious products and share them as much as possible.
Give Out Business Cards
Get some attractive business cards printed and hand them out to everybody you come into contact with. Give them to your friends, neighbors, parents at your kid's school, people at the mall, or anyone else who may be interested in your sweet treats.
Give out Samples of Your Baked Goods
Definitely one of the best ways to get people excited about your yummy baked goods is to hand out samples. Hand them out at places where you already know someone such as your dentist's office, doctor's office, your kid's school, church, your bank, and anywhere else where people know you or do business with you.
Don't forget to tell them what your specialties are. And don't forget to leave a few business cards with your samples so they know how to contact you.
Have One or Two Specialty Items
It's great to have an item or two you are especially known for. So if you make the best cheesecake in three states, let everyone know that's what you do best. Once you've established yourself in that way, you can make more money by branching out later.
Growing Your Bakery Business to the Next Level
As your bakery treats become more popular, you may find that you can't keep up with demand. At that point you either have to find out how to run your money making venture more efficiently or even hire someone to help.
If you get really popular, you might even need to hire several people and rent an industrial kitchen to keep up with demand.
At some point, if you continue to grow, it may be necessary to step away from being the one who actually makes the products and transition into a business owner who manages the processes and people who make the products.
Don't Limit Your Growth
When your business grows to the point where you have a proven product that people love, it may be necessary to change some things as you run into the inevitable obstacles that happen in any business. You have to keep making money to keep the business running smoothly, and that takes a different set of skills at different stages.
When you run into those roadblocks, keep charging ahead and figure out how to get over and around them. Be relentless about changing for the better and who knows where you can go!
Maybe you'll be the next baker to show up on Shark Tank!
Ever sold bakery items as a way to make extra money? Ever thought about it but never got started? Leave a comment below or on our Facebook Page and tell us about it.