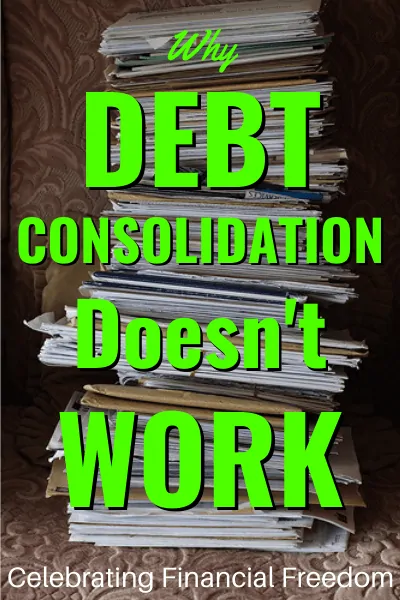 Debt consolidation is a big business in the U.S. Many people believe it's a great tool to use for getting out of debt. But is consolidating your debt really a good option for people who really need a solution for getting rid of debt for good?
In this article, I'll show you exactly what debt consolidation is, why I believe it's not a good idea, and what other options you have for getting out of debt that will work much better. I'll also provide you with a list of great resources to help get you moving in the right direction so you can eliminate debt for good.
What is Debt Consolidation?
Debt consolidation is simply bringing together all your debt into one lump sum at a cheaper interest rate, and paying it off with one monthly payment, instead of sending money to multiple creditors every month. There are two different ways you can consolidate your debt:
Do It Yourself- Take out a personal loan or a home equity loan to pay off all your outstanding debt, whether that's student loans or credit card bills . You might be able to get a lower interest rate, and you'll only have one payment to make each month as opposed to many payments on multiple loans.
Hire Someone to Consolidate Your Debt- Pay a debt consolidation company to handle your debt payments for you. They negotiate "better" terms with your creditors, and you pay them one lump sum debt payment every month plus their fee. Then they pay your creditors for you.
Why Debt Consolidation is Not a Good Idea
At first blush, debt consolidation seems like a good idea, especially if you're in a desperate financial situation. But here's the deal- Consolidating your debt doesn't really solve your problem in the long run. In fact, it will cost you more money. Let's explore why below.
Do It Yourself Debt Consolidation
When you consolidate debt on your own by taking out a loan, it may lower your payment, but it does nothing to change the behavior that got you into debt in the first place (more on that later). And if you use a home equity loan to consolidate your debt (God forbid), you're putting your house at risk, which is an unwise move.
Read here for more details on why that's a bad idea
Hiring a Debt Consolidation Company
If you hire a debt consolidation company to help you with the process, they will negotiate new terms with your creditors, which will save you several hundred dollars a month on your debt payments.
Sounds good, right?
What they usually don't tell you is that even though they might be able to get some of your interest rates lowered, the main method they use to get your payments lowered is to extend the payoff time of your loans.
The net result is that instead of paying off your debt in, let's say, 2 years, it will now take you 5-6 years. Because of that, you actually end up paying a lot more money in interest and monthly fees because of the extended payoff time.
In the end, you end up paying thousands extra in interest and fees to have your debt consolidated.
Why Debt Consolidation Doesn't Work
There is one more pitfall to using debt consolidation that you don't always hear about, and in my opinion, it's the biggest pitfall of all. When it comes down to it, if you want to get out of debt, there has to be a change in your mindset and behavior when it comes to money.
Most people that are deep in debt get there over a long period of time by financing their life through credit, car payments, and other forms of consumer debt that added up over time until it became difficult to manage making the payments (sound familiar?).
Debt consolidation does absolutely nothing to address how you got into debt in the first place, and statistics show that the majority of people that go through debt consolidation get back into debt soon after.
Why does that happen?
It's because there is no behavior change involved in the process.
If you want to get out of debt permanently, the first two things I recommend are that you have to:
1. Get Mad
2. Get Naked
Get Mad at Your Debt
You have to get so mad at your debt that no matter what happens, you swear you're never going back. You have to get your emotions involved and get intense about your decision to fix your financial problems permanently.
Get Naked
Then you have to get naked. Yes, I know that sounds a little strange. Getting naked simply means that you're going to go naked with credit. It means that you now recognize credit is not your friend, and that you're going to swear off using credit for good.
Just like being naked and exposed, not using credit is uncomfortable at first. But once you learn to use only cash to finance your life, things start to change, and you discover that you just don't need that credit you once thought was so necessary.
Yes, you can still be prepared for emergencies without a credit card.
You can still buy a car without a loan.
You can still have everything you need using cash.
Join Me In My Nakedness!
Sorry, I don't mean for that headline to sound creepy! I haven't used credit in almost a decade now, and it's one of the best decisions Angie and I ever made!
You can join me and thousands of others on the debt free journey by simply having a plan. It doesn't take any special talent or ability, it just takes time, hard work, and a willingness to make your situation better, no matter what it takes.
Blog Posts
You can start by reading my extensive article that will lead you through every single step it takes to get out of debt permanently, without using the illusion of debt consolidation. You can find it here:
How to Get Out of Debt- The Ultimate Plan for Getting Out of Debt Even if You Have No Money
Books
There are also a couple of great books available that I recommend:
"Financial Peace" by Dave Ramsey
"The Total Money Makeover" by Dave Ramsey
The CFF Online Course
And of course, if you want a much more in depth teaching on how to make a plan to get out of debt, how to get your spouse on board financially, change your family tree, change your behavior with money, and more, you can check out the Celebrating Financial Freedom Online Course.
You can even sign up for the free mini course!
When it comes down to it, debt consolidation rarely works to get you permanently out of debt, but having a plan does. I've been there, made a plan, and got it done. I know you can do it too!
Question: Have you ever tried debt consolidation? What kind of experience did you have?
Additional Links:
Why Debt Consolidation Doesn't Work- Yahoo.com
The Truth About Debt Consolidation- DaveRamsey.com
10 Debt Consolidation Myths- Bankrate.com
5 Steps for Getting Out of Debt You Can Do Right Now
Photo Credit: Keith Williamson via Compfight cc