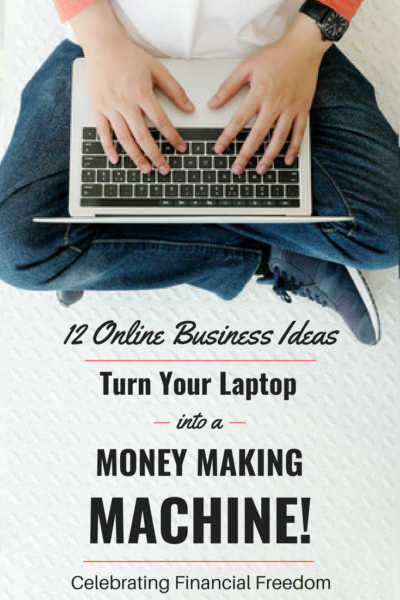 I truly believe that starting an online business is one of the best ways to earn extra money, or even a full time income. You can make a few hundred dollars to a few hundred thousand dollars a month on the internet using nothing but your laptop!
I personally know people who are making money throughout that income range with an online business, and I'm one of them! I haven't gotten to the point where I'm making a full time online income yet, but it's my goal to get there in the near future.
So if you're just getting started making money with an online business, or maybe thinking about getting started, this article will help you with some solid ideas to turn your laptop into a money making machine and start making money online now.
What's the Advantage to Making Money Online?
Earning money on the internet has huge advantages over a traditional job. Here are a few of those advantages:
No commuting to work- save money on gas, eating out for lunch, day care, expensive work clothes, and more.
No mean bosses or irritating coworkers.
You can work from home, or the coffee shop, or at your favorite beach on the other side of the world. Location doesn't matter!
All you need is a computer or a smart phone.
Work anytime you want to fit your lifestyle!
In some cases, you can make money while you sleep (we're talking passive income– more about that below).
Startup costs with an online business are generally very low. You can start your own website with your own domain name for literally a few dollars a month!
Earn an Exponential Income With an Online Business
Most traditional jobs pay hourly or with a fixed salary.
In those jobs, no matter how much you work, your income potential is limited by the number of hours you can physically work, or by your inability to earn more than the salary you agreed to.
But when you earn money online, there are so many more ways to earn exponential income!
Making money doesn't have to be tied to how much time you spend on your business. When you have the right online business model, you can literally make money while you sleep!
12 Ways to Turn Your Laptop into a Money Making Machine!
Below I'll show you some of the best ways you can earn an unlimited income online. I'll also show you other ways to earn money online that are good for making substantial money, but don't necessarily have the potential for exponential income.
Either way, working online beats having a traditional job!
Start a Blog
Starting a blog is an awesome way to make money online from home! The startup cost is minimal, and the income potential is unlimited.
I know bloggers who make a few hundred dollars a month on the side to supplement their income, and love it. I also know bloggers who turned their passion into a full time business making well over $100,000 a month!
Recently, I became a little more serious about my blogging income. In just a few months I grew my online income to 8x what it was the year before! My new goal is to increase it at least that much again.
Starting a blog is not very hard, but it does take a little time to get started.
I put together a free email course that shows you every single step you need to get started blogging. It comes with plenty of free resources, as well as plenty of ideas for monetizing your blog once you have it up and running.
Click here to sign up for my FREE "How to Start a Money Making Blog" email course.
Become a Freelance Writer
Freelance writing is an excellent way to make money with an online business. You don't need experience to get started. Heck, you don't even have to be a great writer!
There are plenty of freelance writing jobs available even for beginners. Where do you think the hundreds of millions of internet sites get their content from?
Freelance writing jobs range from writing in-depth, highly researched articles with thousands of words, to writing a few clever words of copy for an ad.
There are tons of writing niches available. Although you don't have to stick to just one. Here are some of the more common ones.
Technical writing
Video Scripts
Magazine articles
Ghost writing
Writing for companies to promote products and services
Self-publish your own books
Blog posts
News writing
And plenty of others!
If you're willing to work at it and build a reputation, it's not unusual to make a six-figure income as a freelance writer.
Holly Porter Johnson consistently earns over $200,000 a year working as a freelance writer. She's self-employed, makes her own schedule, and even better, she can show you how to build your own freelance writing business!
Holly's popular online course, Earn More Writing, is an awesome way to learn how to make a six-figure income online as a freelance writer.
You can find out more about Earn More Writing here.
Read my post on making money as a freelance writer here.
Start an Online Store
There are several ways you can start on online store where you can sell a variety of products. It doesn't matter if you want to sell digital or physical products, either can be quite lucrative!
You can set up a store with Amazon, Ebay, Etsy, or Shopify, among others and start making money in a relatively short period of time!
My friend Steve Chou and his wife Jennifer have been extremely successful with their online store, Bumblebee Linens. You can read their story here.
They've been so successful that now Steve teaches people like you how to start and run a successful online store. To learn more, you can sign up for his FREE 6 day mini course here.
Here's my post on how to set up an Etsy shop.
My post on how to Start an Amazon FBA business.
5 Profitable Ways to Work-from-Home with Amazon
My post on starting an online store.
Create and Sell Online Digital Products
The great thing about selling digital products is that there is almost no overhead. Whether you're selling an online course, stock photos, or anything else, there is typically very little cost involved, so your profit margin can be huge!
Online Courses
Most everybody has special knowledge or skills they can teach to someone else. Whatever your unique skills are, you can teach them to other people in an online course!
No matter what skills you possess, there is always someone who wants to know how do what you know how to do.
By breaking things down to a step by step process, you can teach people pretty much anything, including:
How to create Excel spreadsheets
Software coding
How to start an online business
Childcare techniques
How to train a dog or other pet
Martial arts
How to make your own clothing
Oil or watercolor painting
How to do voice overs
And anything else you can think of!
You can definitely make a good part time or full time income online with courses. You can do especially well if you build a reputation for quality courses that create plenty of value.
Best of all, it's mostly passive income! Once you publish your course, you can sell it for years on end without having to do much else!
There are a plenty of sites where you can host an online course. Each one has its own unique features, so choose the one that works best for your situation.
Some of the most popular sites to create courses are Udacity, Coursera, Teachable, Udemy, and Lynda.
Create and Sell eBooks
This goes hand-in-hand with the freelance writing idea I mentioned above. These days, you don't have to be an experienced writer to publish a book. All you need is an idea and a laptop and you can create an online business!
You can write anything you like, from children's stories, to fiction, to self help books. It's all up to you and your imagination!
Once you have your book written, you can upload it to any number of online publishers to make it available to the public. I published my book on Amazon's CreateSpace and Gumroad.
It's not too difficult to do, but it takes a little time on the front end. Once your book is uploaded and available, then you can make money from your book without a lot of extra effort!
You'll need to do some marketing and promotion to help it sell more copies. But you will only have to write the book once, and let it generate online income for years to come!
Some of the most popular digital publishing platforms are CreateSpace, Amazon KDP (Kindle Direct Publishing), Gumroad, Smashwords, Apple iBooks Author, Draft2Digital, and Kobo Writing Life.
Read my post about creating and selling ebooks
Sell Printable Teaching Aids
If you're a teacher or have teaching experience, Teachers Pay Teachers is a great way to use your laptop to make money online.
Teachers always need new and fresh material to present to their students, and this site helps you provide it. You can sell a huge variety of resources targeting students/teachers from Pre-K all the way to college.
Pretty much any subject is on the table, including music, foreign language, literature, STEM subjects, and others. You can even provide holiday themed material and specialty themes for each subject if you like.
Here's a blog post detailing 10 Teachers Pay Teachers success stories to get you inspired.
Sell Services Online
Your online business doesn't necessarily have to sell products. You can also sell services!
Teaching Online
Speaking of teachers, you can also teach and/or tutor online. This is a great way to get out of the classroom and work from home providing one on one instruction.
You can provide instruction in pretty much any subject needed, right from your computer! If you're an experienced teacher, this online business will be relatively easy, and enjoyable too!
Think about it- instead of trying to wrangle 29 kids into one room and teach them something, you can get one on one with a student and be more effective in your teaching!
Best of all, you can make your own schedule!
Here are a couple of resources for more in depth information about teaching online:
27 of the Best Online Tutoring Jobs to Make Money from Home
How to Find Online Teaching Jobs: 7 Best Sites
Earn Money Online as a Virtual Assistant
So what is a virtual assistant? A virtual assistant (or "VA") is a person who provides support services to other businesses from a remote location.
A VA can provide a variety of services remotely via computer, or focus on a single niche service to make money.
For instance, if you're great at creating and managing Excel spreadsheets, you can hire yourself out to people who desperately need that service.
Another option is to offer more general services, sort of like an online personal assistant. You could perform tasks that range anywhere from ordering groceries, to paying bills, to managing your client's calendar and emails.
This online business won't scale to where you can make passive income while you sleep. However, it can still be pretty lucrative depending on your skillset.
Read my post on how to make money as a virtual assistant.
Sell Services on Fiverr
Fiverr is a great way to sell services online. You can offer tons of unique services for customers, some you never dreamed you could make money doing.
Many venders on Fiverr offer standard services such as copywriting, coding, web design, and graphic design. But there are also thousands of creative (and weird) ways to make money on Fiverr as well!
You can find people offering incredibly creative services such as:
Doing a voiceover in an Irish accent.
Dream interpretation.
Someone who will call you and tell you they love you.
Prank calling anyone you wish.
Writing an amazing and unique joke just for you.
Fiverr is not just limited to performing tasks for $5 though. The $5 tasks are usually just an intro to your services. After that, your customer can buy add-ons and additional services at your normal rates.
Many people are making thousands of dollars online with Fiverr, some even pulling down a full-time income!
Read my post How to Make Money on Fiverr
Give Online Music Lessons
If you have musical talent, giving online music lessons are a great way to generate cash in a full time online business or as a side hustle in your spare time.
There are several ways you can teach music online:
Create an online course with specific lessons geared toward mastering certain aspects of music. Some students might like this better because they can learn at their own pace. Also, you can earn exponential income this way.
Live online music lessons are also a great way to teach. Some students would rather have a live teacher to lead them. However, live lessons limit your ability to make a lot of money teaching, as there are only so many hours in the day.
A combination of live and online lessons- Create an online course and encourage students to upgrade to some live lessons at a premium rate. You get the best of both worlds, and only teach a few live lessons so you don't spend all your time teaching.
Some of the most popular sites for online music lessons are Artistworks, Live Music Tutor, Lessonface, and Musika.
Flip Cars on Ebay, Craigslist, or CarGurus
This is not strictly an online business, but much of it can be done online. Just like flipping houses, you can also buy used cars and resell them for a profit.
There are a lot of people who have financial problems and need to get rid of cars quickly. That's great for you, because many of those people end up selling their car for less than it's worth. You can buy it, clean it up, and resell online it for a nice profit!
Another option is to purchase cars at auction. This is where you can get some of your best deals with the biggest profit potential.
You'll need to have a good eye for determining the value of cars. However it's not difficult to figure out if a car is undervalued using sites like Kelley Blue Book, AutoTrader, Edmunds, and NADA Guides.
Once you make your purchase and clean the vehicle up (if needed), then you can list it on Ebay, Craigslist, CarGurus, or other car selling sites.
Read my post on how to make money flipping cars.
Sell Online Leads
Selling leads is another awesome way to make money with an online business. It's a pretty simple concept:
Set up a website catering to a specific niche (i.e. people who need a dentist)
Gather personal information from those people so they can be contacted by a dentist in their area.
Sell that information to dentists.
You can do this with just about any niche you can think of, from life insurance to people who need a pet sitter. It's a win-win-win for you, the customer, and the business that gets the leads!
Set up multiple sites for lead generation and you'll make exponential income. Who doesn't like to make money while they sleep?
The Tip of the Iceberg for Online Business Ideas
As you can see, there are tons of ways to make money online with nothing but a laptop and some imagination. This post only touches the tip of the iceberg for online businesses you can start as a side hustle and transition to full-time.
Got any ideas for an online business you'd like to share? Leave a comment and tell us your favorite.